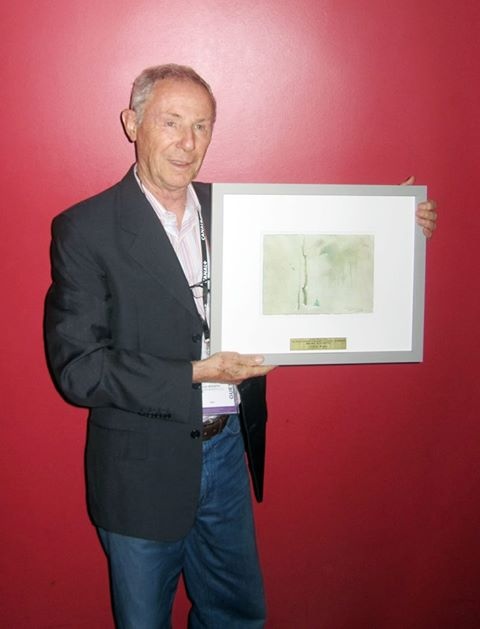 THE WALT DISNEY FAMILY MUSEUM PRESENTS BRUNO BOZZETTO: ANIMATION, MAESTRO!Exhibition Celebrates Award-Winning Work by the Leading Italian Animator
San Francisco, CA, September 10, 2013 – The Walt Disney Family Museum is pleased to present theexhibition Bruno Bozzetto: Animation, Maestro! On view in the museum's Theater Gallery fromNovember 21, 2013 to April 7, 2014, this exhibition organized by animation historian and critic FedericoFiecconi, spotlights some 60 original pencil animation drawings, cels, and backgrounds from thefilmography of the renowned Italian animator, director, producer, and cartoonist Bruno Bozzetto (b.1938). Most of the featured works come from his most celebrated masterpiece film Allegro non Troppo(1976).
Labeled at the time of its U.S. release "a gorgeous send-up of Fantasia," the mixed animationand live action feature film visually interprets six pieces of classical music by Debussy, Dvorak, Ravel,Sibelius, Vivaldi, and Stravinsky. In between the animation at the beginning of the film and the black andwhite live-action sequences at the end there are displays of the fictional animator, orchestra, conductor,and filmmaker, with many humorous scenes about the production of the film. The classical pieces areset to color animation, ranging from comedy to drama. Each of Allegro non Troppo's episodes shows adifferent production style, resulting in a truly artistic, brilliantly animated tour de force. An explicithomage to Disney's Fantasia, Allegro non Troppo represents a high point in the history of animation. Thefilm garnered worldwide acclaim and was praised by Disney Legend Ward Kimball, who called it one ofhis "favorite animated films of all time."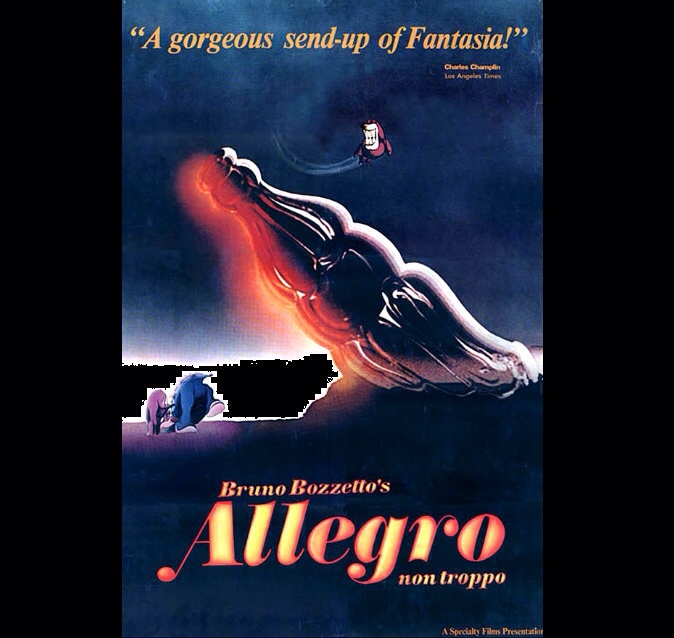 Inspired by classic Disney films including Fantasia (1940) and Bambi (1942), Bozzetto debuted in1953 at the age of 15 with a Donald Duck-themed short. He quickly developed his own distinctivepersonal style, becoming one of the most eclectic and innovative independent animators, directors, andproducers in the industry. For almost six decades, working both independently and through his companyBruno Bozzetto Film, he has produced and created animation shorts, commercials, TV series, and fourfull-length feature films including the iconic West & Soda (1965) and VIP, my Brother Superman (1968).
His short films have also earned an Academy Award nomination, a Berlin Golden Bear, and more than150 international awards.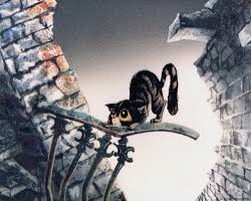 Bozzetto's work represents the perfect link between classic Disney style and a contemporary,modern approach to animation focused on storytelling, character development, brilliant design, andhumor. "Bruno Bozzetto's films have been one of the greatest inspirations for me as an animator andstoryteller. He has created some of the funniest animated films ever made and is one of the most cleverstorytellers around. Bruno's designs are so appealing and his comic timing is truly unsurpassed,"comments John Lasseter, chief creative officer at Pixar and Walt Disney Animation Studios.
Earlier this year, Bozzetto was awarded the highly respected ASIFA (
du Film d'Animation/International Animated Film Association) prize "for outstanding achievements inthe art of animation." The award included an original artwork by Bozzetto's beloved inspiration TyrusWong, the art director for Bambi and the inspiration for his "less is more" approach to animation. Theexhibition is aptly timed with Water to Paper, Paint to Sky: The Art of Tyrus Wong currently on viewthrough February 3, 2014 in the museum's Special Exhibition Hall.
Bruno Bozzetto: Animation, Maestro! is organized by The Walt Disney Family Museum. Theexhibition is designed by the Italian firm Graffiti Media Factory.
Related Images: