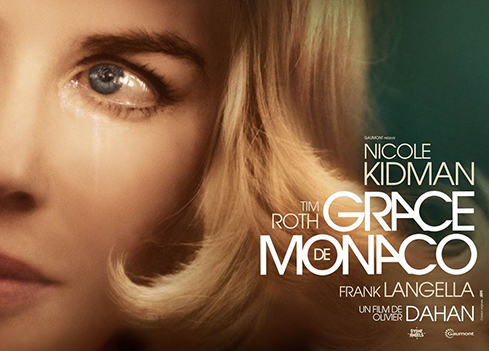 French director Olivier Dahan's Grace of Monaco is to open the next Festival de Cannes. The world preview will take place on Wednesday 14 May, 2014, in the Grand Théâtre Lumière of the Palais des Festivals, in the Official Selection category, Out of Competition. Grace of Monaco follows on from The Great Gatsby by Baz Luhrmann.
The film portrays a period in the life of American Actress Grace Kelly (played by Nicole Kidman) who became Princess Grace of Monaco when she married Prince Rainier III (Tim Roth) in 1956, in what was dubbed "the marriage of the century". An Oscar winner, she was already a huge film star, having worked with the very greatest (John Ford, Alfred Hitchcock, Fred Zinnemann) and acclaimed the world over. Six years later, amid occasional difficulties in fulfilling her role, she was invited back to Hollywood by Alfred Hitchcock, to play in his new film Marnie. At the time, France was threatening to tax and even annex Monaco, the tiny Principality whose monarch Kelly had become. Was she still an actress? Was she really Princess of Monaco?
Produced by Pierre-Ange Le Pogam, Uday Chopra and Arash Amel, who also wrote the screenplay, Grace de Monaco sees Nicole Kidman play the role of Grace, with Tim Roth as Prince Rainier. Their co-stars include Frank Langella, Parker Posey, Jeanne Balibar, Sir Derek Jacobi and Paz Vega, who plays Maria Callas. The film was shot in Scope 2.35 using Kodak 35mm film. The Director of Photography was France's Eric Gautier and the 16-weeks shoot took place in Monaco, South of France, Paris, Vintimille, Gand and Bruxelles.
Born in 1967 in La Ciotat, Olivier Dahan previously directed La Vie en Rose (2007) which garnered Marion Cotillard the Oscar for Best Actress in 2008. Grace of Monaco will be released on the opening day of the Festival, Wednesday 14 May, in France and in several cities around the world. The opening ceremony will be broadcast to participating cinemas, with the kind cooperation of Canal+.
Grace of Monaco (2014). A Stone Angels and YRF Entertainment production. Co-production by TF1 Films Productions, Gaumont, Lucky Red, OD Shots, Ufilm, in association with Silver Reel – Ufund. Distribution in France: Gaumont. Internationales Sales: Lotus Entertainment.
Related Images: