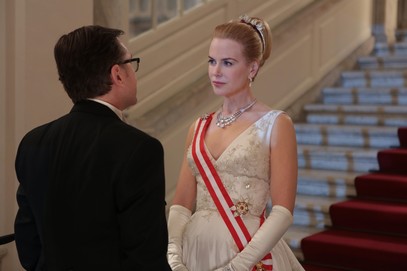 A great opening day for the Cannes Film Festival 2014, with Olivier Dahan's "Grace of Monaco", starring Nicole Kidman, Tim Roth and Frank Langella.
Grace Kelly is a huge movie star with the promise of a glittering career when she marries Prince Rainier of Monaco in 1956.
Six years later, with her marriage in serious difficulty, Alfred Hitchcock offers her the chance to return to Hollywood to play the role of Marnie in his next film.
But France is also threatening to annex Monaco, the tiny principality where she became the Princess.
Grace is torn and forced to choose between the creative flame that still burns within her and her role as Her Serene Highness, Princess of Monaco.
Interview with the director:
"Apart from anything else, it is the fact that she was an actress and an artist who had to give up on her career.
I was not interested in making a biopic. I need to make films that resonate with me and my feelings. I would find it boring to have to depict facts only focusing on a character's story. I always try to blend things and talk about myself too. And I think that what touched me about Grace's itinerary was what was hidden beneath the surface. It resonated with my personal life. So GRACE OF MONACO is not a historical movie, even if it depicts real events. As a filmmaker I was interested in telling how a torn woman finds it impossible – or at least very hard – to find the right balance between her life as a wife, a mother and a woman and her career. In my opinion, GRACE OF MONACO reflects these contradictions."
Did you have Nicole Kidman in mind when you started working?
"Not in the beginning. I've been a fan of hers since DEAD CALM, but I didn't at first visualize her in
the role. Actually, I didn't visualize anyone. Then, we talked via Skype for a couple of hours. That's when I started to have a change of heart. She seemed like an obvious choice. I went back to Los Angeles and we met up three or four times. Her motivation to portray the character came from within, as though she was telling things about herself in the movie. It resonates with things she has experienced in her own life… Her intuition matched mine instantly…"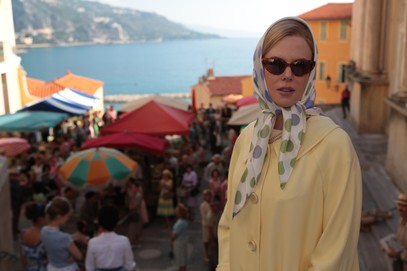 You also allude to the geopolitical background and  the conflict between France and Monaco.
"This background is key to understanding the storyline and the character. Indeed the film is multi-
layered but it has a single aim – make Grace's persona more substantial. I never meant to provide false leads or dwell on historical conspiracies, which did not interest me at all. All the elements that I brought up aimed to show how Grace's character functioned. Besides, I eliminated from the script quite a number of rather ridiculous elements, mainly those concerning General De Gaulle, because they sometimes conveyed a vision of the events that seemed too clichéd."
The work on the production and the costume design is outstanding, but it never upstages the storyline…
"We shot most of the film on a soundstage. However we also "rebuilt" the palace of Monaco by shooting in a studio as well as on location in two palaces, one in Italy and another one in Belgium. Thanks to Dan Weil's production design and then to editor Olivier Gajan's cutting and editing we came up with something smooth and homogeneous.
As for the costumes, Gigi Lepage designed her costumes based on Grace of Monaco's outfits. My first idea was to refer to Hitchcock's movies by way of the clothes – in this case, we do not have real costumes but fantasized ones. I like this intertextuality, which raises the question of true vs. false, of a cinematic reference vs. a historical fact, this is what I find exciting. At first, there was no Hitchcockian dimension in the screenplay. But it was unimaginable for me to
speak of an actress without mentioning cinema."
What was the importance of editing?
"It is a very long phase which lasted a whole year. It takes me more and more  time to edit a film. I spend a lot of time editing and re-editing my films because it is the only way to find the best pace and fluidity. It is a bit like a Rubik's Cube! And it took me a whole year to arrange the six faces. I had to highlight such and such a sequence and the film has plenty of psychological variables and subplots, so finding the right balance and weaving together all the stories did take a long time."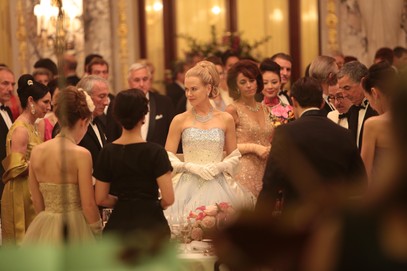 Related Images: