Back at the turn of the century, when 'Topsy-Turvy' was released, I wrote that it was "a film about all of us who suffer and strain to make other people laugh."
Now I have again turned the camera round on ourselves, we who try to be artists, with all the struggles our calling demands. But making people laugh, hard as it is, is one thing; moving them to experience the profound, the sublime, the spiritual, the epic beauty and the terrifying drama of what it means to be alive on our planet – well, that's altogether something else, and few of us ever achieve it, much as we may try.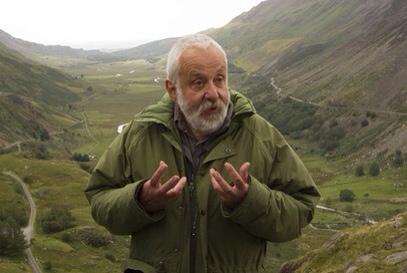 Turner achieved all of it, of course. He was a giant among artists, single-minded and uncompromising, extraordinarily prolific, revolutionary in his approach, consummate at his craft, clairvoyant in his vision. Yet Turner the man was eccentric, anarchic, vulnerable, imperfect, erratic and sometimes uncouth. He could be selfish and disingenuous, mean yet generous, and he was capable of great passion and poetry.
MR. TURNER is about the tensions and contrasts between this very mortal man and his timeless work, between his fragility and his strength. It is also an attempt to evoke the dramatic changes in his world over the last quarter century of his life.
MR. TURNER explores the last quarter century of the life of J.M.W. Turner (1775-1851), the single- minded artist who worked hard and travelled extensively.
Turner is profoundly affected by the death of his ex-barber father, he takes up with a widow, Mrs Booth, a seaside landlady, and is plagued occasionally by an ex-lover, Sarah Danby, by whom he has two illegitimate adult daughters, whose existence he invariably denies.
He enjoys the hospitality of the landed aristocracy, he visits a brothel, he is fascinated by science, photography and railways, he is a popular if anarchic member of the Royal Academy of Arts, and he has himself tied to the mast of a ship in bad weather in order to paint a snowstorm.
He is celebrated by some, and reviled by others. He refuses an offer of £100,000 from a millionaire who wants to buy all his work, preferring to bequeath it to the British nation, whereas Queen Victoria loathes his work.
Throughout the story he is loved by his stoical housekeeper, Hannah, whom he takes for granted and whom he occasionally exploits sexually.
Eventually, he leads a double existence, living incognito with Mrs Booth in Chelsea, where he dies. Hannah is unaware of this until the very end.
Related Images: