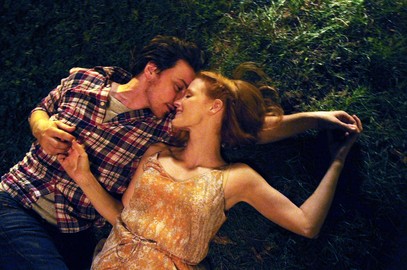 ELEANOR RIGBY
(Un Certain Regard)
With his unique vision, writer/director Ned Benson ambitiously captures a complete picture of a relationship in
the beautifully relatable portrait of love, empathy and truth that is THE DISAPPEARANCE OF ELEANOR RIGBY.
Once happily married, Conor (James McAvoy) and Eleanor (Jessica Chastain), suddenly find themselves as
strangers longing to understand each other.
A hopeful look at the endurance of love through its highs and lows, THE DISAPPEARANCE OF ELEANOR RIGBY
elicits riveting performances from an acclaimed cast led by Academy Award® nominee Jessica Chastain and
James McAvoy, and a richly talented supporting cast that includes Academy Award® winner William Hurt, twotime
Academy Award® nominee Viola Davis, Isabelle Huppert, Ciarán Hinds and Bill Hader.
Q&A WITH DIRECTOR/WRITER NED BENSON & PRODUCING PARTNER CASSANDRA KULUKUNDIS
What inspired you to make THE DISAPPEARANCE OF ELEANOR RIGBY?
Benson:
I wanted to explore love in relationships and was really interested in the idea of subjectivity in terms of how two people can experience the same thing in different ways. And on a broader scale, I wanted to play with the idea of subjectivity in terms of how we all experience the same story, how we each experience the same moments or periods of time and ultimately, how different that is. I thought what better way to write a love story than from both sides of the relationship it just seemed more honest than just capturing one perspective.
When you guys first showed the film at the Toronto Film Festival, it existed as two separate versions called HIM and HER. Can you describe the process of putting them together into the most recent combined version?
Benson:
Whether these films could be combined was a hanging question, so we took the opportunity to try it and were all more than pleasantly surprised with the result, especially after submitting it to Cannes and getting in, which is just crazy to me. I worked with the same creative team I edited HIM and HER with, and we basically dropped into an editing bunker to find this movie. The biggest challenges we faced were that this third film had to be its own entity with its own rhythm, themes, and ideas, which meant that scenes that functioned or played in the other two films didn't necessarily work or play in this one. We had to focus the film on the couple, Eleanor and Conor, and th e mystery of what happened to them, rather than each of their disparate perspectives and the themes that came with those. This film becomes a visual dialog between them, rather than just their subjective experience. It becomes more omnipotent. I got to use footage shot during production that we didn't use in the others. It was an incredible editorial experience, which in this wonderful way taught me a lot about filmmaking.
Tell us about the experience of making what is your first full length feature film?
Benson:
This has been the most creatively overwhelming experience I've had in my life , in The best possible way. From the earliest of days, it was such an amazing collaboration with a wonderful group of people working to make this film come together. I'v e tried many times to make other films that just didn't come together and for some reason, what in all logic seemed to be the most difficult to get made, was actually the first one to happen. You only get to make your first film once and this has all been pretty incredible.
Kulukundis:
Working with Ned on this project has been such a great experience. Not only because he is one of the most talented writers and can edit things in 10 seconds when need be, but he's creative and understanding of the process of putting a film together. There'd be moments where I'd say something like "Hey, I know you love that song, but we can't afford the rights to it." And he'd just look at me un phased and be confident that we'd find another one that would work even better. A nd that's the attitude you need to come to the  table with when you're making an independent film. This entire filmmaking process, we've  approached it as partners who are 100% invested in everything.
Jessica Chastain was on board early on how did she become involved to begin with?
Benson:
I met Jes about 11 years ago now. I had a short film playing in a film festival, and there were something like 12 people in the audience. Afterwards this girl comes running up to me in the lobby and asks me if I directed the film she just saw. I said yes. And she said: I want to work with you. And I thought to myself: Why? The girl happened to be Jessica, who had just graduated from Juilliard and moved to LA to be an actor. She was my first fan and  has believed in me for a long time, which I am extremely grateful for, because without that I'm not sure I'd have made this project. We became very close and I developed what became the two film project with and for her… and here we are. Life is funny.
Furthermore, tell us how the rest of the incredible cast became part of the film.
Benson:
Once we had Jessica involved, I knew I wanted James McAvoy to play the role of Conor. Because of his scheduling, we actually didn't have James locked in until a few months before we started shooting. Having Jessica and James was sort of an amazing coup for me. The first to get involved after Jessica was William Hurt. He signed on a year before we started filming and was a big proponent of the script. And from there this amazing thing happened where everyone who we reached out to as my first choice began saying yes. It felt  like all of a sudden the film came together and I'm directing this  incredible cast of Jessica, James, William, Viola Davis, Isabelle Huppert, Ciarán Hinds, Bill Hader, Jess Weixler, and  Nina Arianda.
Kulukundis:
I actually come from a long line of casting, so that was helpful for us. Behind the scenes as the script got to a really good place, I was calling and getting people to read it. The strength of the script made it its own calling card and got us all of the right people. Like  Ned said, it took almost two years to get James attached because of his schedule. But as soon as he did we jumped in and went right into production. Ciarán happened to be on the East Coast working so I popped the script over to him we'd worked together on There Will Be Blood. I approached Viola's team very early on and they couldn't have been m ore supportive and we got her to sign on. And of course Jessica was there from the development and has been a part of our team. And like that, everything came together piecemeal.
After many years developing the script, what was it like to finally get behind the lens?
Benson:
I'd envisioned this film for so long. I created this whole workbook of ideas of what I  wanted it to feel and look like down to the moods I wanted to set in every scene. I'd pretty much shaped the entire world of the film out of my imagination. And so to actually begin  directing and working with our production designer and location manager to refine these  spaces or sit down with the DP to go through our ideas and actually develop the look was an incredible experience. Having what I'd ideated for years become a reality made me appreciate that I get to do what I love for a living.