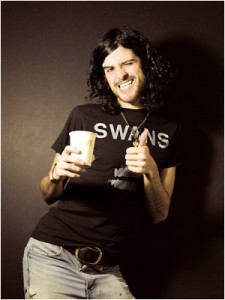 SABATO 19 GIUGNO
Roma Incontra Il Mondo in collaborazione con Circolo Degli Artisti
presenta
DEVENDRA BANHART & THE GROGS
+ Estasy
porte
20:00
concerti
22:00
ingresso
13 euro + d.p.
@ LAGHETTO DI VILLA ADA
Via di Ponte Salario – Roma
Info 06 41734712 – 06 41734648 – 06 70305684; info@circoloartisti.it
Dopo i due sold out di Dicembre, Devendra Banhart torna in Italia e a Roma per presentare, oltre ai brani dei lavori precedenti, il nuovo album WHAT WILL WE BE, uscito in Italia su etichetta Warner Bros.
Devendra Banhart si è imposto sulla scena musicale nel 2002, catturando velocemente l'attenzione di un gran numero di fan e della stampa musicale internazionale. Il suo nuovo lavoro intitolato WHAT WILL WE BE, primo album su etichetta Warner Bros. Records è stato registrato in una sonnolenta città della California del nord durante la primavera del 2009 e co-prodotto da Paul Butler (Band Of Bees).
La line-up di base vede Devendra alla voce e chitarra accompagnato da Noah Georgenson (Little Joy, Bert Jansch, Joanna Newsom e produttore degli ultimi due album di Devendra) alla chitarra e cori, Greg Rogove (Priestbird) alla batteria, Luckey Remington (The Pleased) al basso e voce e Rodrigo Amarante (Los Hermanos, Little Joy) alla chitarra e cori. Tutti i musicisti coinvolti hanno preso parte all'arrangiamento dei brani di WHAT WILL WE BE.
Questo nuovo album esprime una freschezza e una radiosità inedite ed è dominato da brani potentemente melodici e mid-tempo suonati con rilassata maestria. Altra caratteristica è una certa ambizione stilistica dimostrata dall'inserimento di ballate evanescenti come "Meet me at the lookout point", o da brani decisamente più rock come "Rats" o dal vivace groove R&B di "Baby" o, ancora, dalla sensuale e latineggiante "Brindo" o da "16th & Valencia" ispirata ai Roxy Music.
WHAT WE WILL BE è il secondo album che Devendra registra con lo stesso gruppo di musicisti e l'affiatamento risulta evidente nel suono confortevole, familiare e naturale. Un lavoro schietto, ispirato e originale in cui gli arrangiamenti vocali sono notevolmente più intricati di quelli degli album precedenti, pur rimanendo cristallini e armoniosamente ricchi.
BIO
Devendra Banhart è nato nel 1981 a Houston, in Texas. Cresciuto in Venezuela si è poi trasferito nuovamente in California, dove ha iniziato a suonare e a studiare l'inglese. Ha iniziato a farsi notare nei circoli underground nel 2002 con il suo album di debutto "Oh me oh my the way the day goes by the sun is setting dogs are dreaming lovesongs of the Christmas spirit". L'album è stato prodotto da Michael Gira, proprietario della Young God Records, scegliendo i brani da una voluminosa collezione che Devendra aveva accumulato nel suo peregrinare intorno al mondo e che aveva registrato su svariate segreterie telefoniche e su un registratore a cassette prestatogli dal suo buon amico Noah Georgeson.
Negli anni successivi, ha composto una serie di album acclamatissimi che lo hanno portato in tour in tutto il mondo facendogli conquistare la stima e l'affetto di numerosi fans e critici. Tra i suoi album precedenti ricordiamo "Rejoicing in the hands", "Nino Rojo", "Cripple crow", "Smokey rolls down Thunder Canyon".
 Negli ultimi anni Devendra ha conquistato le copertine di molte importanti riviste, tra cui The Fader, Signal To Noise, Arthur Magazine, Paper, Harp, Guitar World Acoustic, sulle edizioni tedesca e giapponese di Rolling Stone e all'interno di Vanity Fair, GQ, Spin, Filter, The Believer, Blender, Sunday New York Times Magazine, Los Angeles Times Magazine, Washington Post, Mojo, The Village Voice, Under The Radar, Magnet.
Oltre ai concerti nei club e nei teatri sia in America sia in Europa, Devendra ha preso parte a molti festival prestigiosi come il Coachella (2006 e 2009) ed il Bonnaroo. Ha organizzato un proprio mini-festival nel club El Cid di Los Angeles chiamato "Hypnorituals and Mesmemusical Miracles Hanging In The Sky: 5 nights of soleros and bandoleros". Ha coordinato nel 2006 il festival londinese "All of Tomorrows Parties" convocando band come Bat For Lashes, Jandek, i Vetiver, i Metallic Falcons e Ramblin' Jack Elliott con Whizz Jones. Nel 2007 è stato l'headliner del concerto Welcome To Dreamland alla Carnagie Hall di New York, concerto organizzato dall'ex Talking Heads David Byrne.
Oltre ai suoi album, Devendra ha registrato materiale esclusivo per dischi tributo, compilation e raccolte per beneficenza. Ha collaborato con Beck alla title-track dell'ultimo film di Todd Solonz "Life During Wartime". Su richiesta di Noel Gallagher, ha registrato un remix di "Get off your high horse lady", dall'ultimo album degli Oasis.
Devendra non è solo un musicista, ma un artista a tutto tondo. I suoi disegni, dal tratto minuzioso e dal significato spesso enigmatico, sono stati esposti in musei e gallerie di tutto il mondo, tra cui il San Francisco Museum of Modern Ar Nel, Art Basel Contemporary Art Fair di Miami e il Palais Des Beaux Arts di Bruxelles. In Italia, ha esposto presso la rinomata galleria modenese Mazzoli e a New York alla Canada Gallery. Molti dei suoi album hanno copertine disegnate dallo stesso Devendra.
ESTASY
maschere e visioni
suoni onirici e reminiscenze pagane
cassette a nastro e metamorfosi
Estasy pubblica un album con l'etichetta finlandese IKUISUUS nel 2009
live perfomance al VOODOO music fest di New Orleans e collaborazioni  con artisti internazionali.
apre per  i concerti di Peaking Lights, Rainbow Arabia , Scott Matthew
INFO
http://www.devendrabanhart.com/
http://www.myspace.com/devendrabanhart
http://www.myspace.com/extacysound