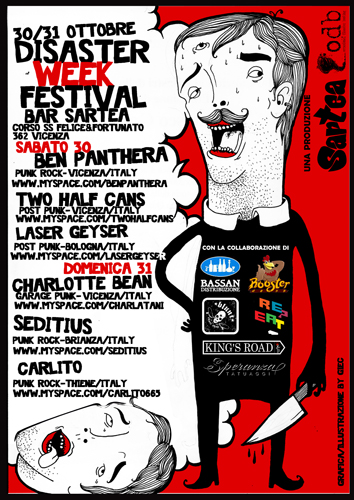 DISASTER WEEK FESTIVAL 2010 – THE IT EDITION!
Ovvero, una full immersion lunga un intero weekend nei meandri del punk rock italiano! 2 serate, 6 bands scelte tra le migliori del panorama vicentino e nazionale! E come al solito…ingresso rigorosamente gratuito! 
Il programma in dettaglio
Sabato 30 ottobre, ore 21.00
BEN PANTHERA + LASER GEYSER + TWO HALF CANS
Serata bombastica per l'esordio del Disaster Week 2010! Sul palco si avvicenderanno Two Half Cans – che per il loro post punk mettono sapientemente nel frullatore suoni tipici di Washington D.C., Austin e Seattle, un po' di Chicago ed una spolverata di New York…ma non troppo – Ben Panthera – che sfornano pezzi a metà tra vecchia scuola punk rock e post punk a la Dischord, tra Cloak/Dagger, Jawbox e Fugazi – e Laser Geyser – il cui cocktail di influenze produce rock versione 2.0 fatto da gente che riesce a immaginarsi come avrebbero potuto suonare i Refused in trip da Hot Snakes! Un grande esordio per una grandissima IT EDITION!
http://www.myspace.com/benpanthera
http://www.myspace.com/twohalfcans
http://www.myspace.com/lasergeyser
Domenica 31 ottobre, ore 21.00
CHARLOTTE BEAN + SEDITIUS + CARLITO
Serata numero 2 che si preannuncia altrettanto gustosa e succulenta! Sul palco Charlotte Bean – che sperimentano ecletticamente, con un orecchio ai grandi del passato (Pink Floyd, Clash) e uno al presente (Radiohead, The (International) Noise Conspiracy, The Mars Volta) – Seditius – la peggior band d'Italia, perfetta per il Disaster Week Festival, che si muove tra punk rock tiratissimo, hardcore e un po' di sana psichedelia – e Carlito – commando brigante che vanta membri di praticamente tutte le formazioni punk rock dell'alto vicentino tra il 1998 ed il 2009, e che suona, strano a dirlo, un punk rock poderoso e cinghiale con Zeke e Motörhead! Bomba alla seconda! 
http://www.myspace.com/charlatani
http://www.myspace.com/seditius
http://www.myspace.com/carlito665
Partenership
Disaster Week Festival è figlio della fantasia malata di Bar Sartea e ODB/Occasional Disaster Booking. Ma la due giorni è resa possibile da una serie di collaborazioni e partnership. Bassan Distribuzione, Blunt Street & Skateshop, Rooster House e Speranza Tatuaggi sostengono a vario titolo l'iniziativa. King's Road e Repeat sono preziosi media partner! 
http://www.myspace.com/bluntvicenza
Links e collegamenti
Sito web ufficiale: http://www.disasterweek.it
Facebook: http://www.facebook.com/#!/pages/Disaster-Week-Festival/152573852333
Myspace: http://www.myspace.com/disasterweekfestival