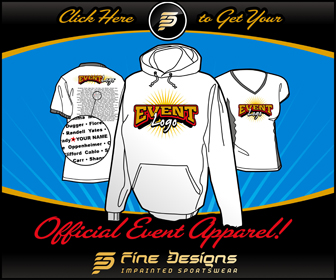 by Chiara Spagnoli Gabardi
Fine Designs is a company that makes custom apparel for events. Their motto enhances their mission to inspire and empower their customers ever since 1994: "We are not in business to sell shirts, we are in business to give service to people!"
The customised clothing market is more than just creating cute clothes at an affordable price. Fine Designs combines quality clothing with the experience and support systems necessary to help customers plan a stress-free event to "Make Achievements Memorable."
The company is based in Washington, but there are many locations around the world that can help people. The company's marketing advice focuses on producing a unique product that meets people's demands quickly. Today's society hates to wait for a reward, so making apparel on-site allows Fine Designs to skip the complaints about waiting for orders to arrive. The free marketing that comes from people wearing an event T-shirt cannot be underestimated. Clubs, festivals, businesses and others want guests to remember an event and advertise it at the same time.
Using a site like Fine Designs will help people have their own meaningful event complete with a customised, unique wardrobe. Once you reach out to Fine Designs, they will get in touch with a representative in your area to work one-on-one with you. They will send you a personalised proposal catered directly for your needs. Your personal account manager will be responsible for negotiating the terms, creating an event sales operational plan, and scheduling on-site sales staff to ensure that each aspect of the event is a great success. Then the art department will receive the instructions to begin designing a unique logo just for your event. And on the event day, the Fine Designs team will set up an amazing stand. No wonder, after more than 20 years, Fine Designs is still finding success with its custom apparel printing services.
Clothes play an important role at events, and Fine Designs shares its marketing advice for finding success in the industry, through the words of CEO Victor Kostroub: "Our personal integrity, our shared values, and our ethical business conduct form the basis of Fine Designs' reputation around the world. When combined with the quality and performance of our products, those elements create an incredibly powerful platform for business success for the company and professional growth for all of us. Our everyday behaviour and decision-making is grounded in these values. By living our values, I know that we can move closer to a realisation of our vision. It is a privilege for Fine Designs to make achievements memorable by providing customised on-site and online apparel. It is a privilege to relieve event directors and organisation hosts of the hassle they don't need, and together focus all of the energy on providing a great experience."
Apparel can be used in ways beyond it being a simple token to remember an event. That is why charitable causes have not escaped the attention of Fine Designs, since it created apparel to help support the American Red Cross after Hurricane Sandy. A portion of the sales of the hoodies and T-shirts featuring the words "Hurricane Sandy Survivor" and "I Survived Hurricane Sandy" went to the charity, proving that Fine Designs' achievements are truly memorable.