by Chiara Spagnoli Gabardi

The Italian National Olympic Committee (CONI, i.e. Comitato Olimpico Nazionale Italiano,) celebrates 100 years since its foundation. The organisation that dates back to 1914, and is a member of the International Olympic Committee (IOC), is responsible for the development and management of sports activity in Italy, embracing 45 national sports federations, along with many other associations connected to sports. Thus, CONI provides discipline, regulation and management of national sports activities and is a public entity responsible for the organisation and strengthening of national sports and the promotion of maximum proliferation of sport.
The President of CONI in the year 2013-2014 is Giovanni Malagò. The man who has established himself as entrepreneur, sports manager and Italian futsal player has proved to be an excellent coach to train CONI towards new competitive goals, as he explains in this Exclusive Interview:
As President of the CONI do you consider yourself specialised in something different in comparison to your predecessors?
I think we are all different. I highly esteem and respect those who came before me. But the mentality is different nowadays. My nomination for this position was like no other, because I was the first one who was appointed as someone coming from outside the organisation. My background was in the private world. My greatest challenge is to acknowledge that I've become a public man. I think that the private mentality in the public sector is important to have new energy, new contacts and new ideas. This is crucial to create new models of governance in the public sphere with the knowhow of the private field.
How has this year gone so far?
First of all I think there are several achievements that were noteworthy, that have been great accomplishments for the Italian National Olympic Committee. But if I were to pick one, I must say that my utmost satisfaction was given to me by the new project concerning schools. Previously this was one of the major flaws in our system. Just recently we had a press conference with Undersecretary Delrio, in charge of sports, and the Minister of Education, Minister Giannini. I think CONI has opened a new era in Italy: it is really important is to remind everyone that our organisation usually is not involved in these kind of matters, nevertheless since we believe it's an important topic, we felt the urge to get involved proactively.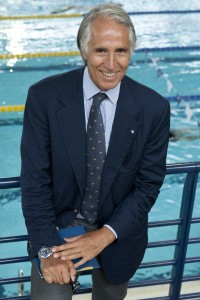 Besides education another focus of your administration at CONI has been internationalisation…
The International Committee is crucial to me, since I strongly believe our organisation has to reach beyond national borders, to avoid getting isolated. Day by day there are significant reasons to be in touch with international activities. For example I'm in the IOC Committee, in the Marketing Department, with the goal of improving additional revenues. CONI is also very close to the European Olympic Committee, in organising the event in Baku 2015: the first major multi-sport event for the European Games. We're also expecting the feedback of the Assembly of IOC in Montecarlo, that might consider Italy's candidature for the Olympic Games in the future.
What Italian city would be eligible, in your opinion?
Rome, according to the entire country, stands the chance. It is well equipped, as it has proved in the past.
[It had been the wish of the founder of the International Olympic Committee – Pierre de Coubertin – since 1904 to have the Olympics hosted in Rome, which occurred successfully in 1960].
You mentioned the Baku event in 2015, what about Milan's EXPO 2015, how is CONI involved in this event?
We've signed a protocol just a few weeks ago and are in touch with the General Manager, Giuseppe Sala. Our partners will invest inside the area of the Italian Pavilion, and we are organising several sports events that will take place during EXPO, such as the world championship of canoeing in Idroscalo, and the world championship for under 20 in rugby. This will give an additional offer and appeal to all visitors who will be visiting the International Exhibition and will need some recreational moments.
Since canoeing came up and in the past you've been President of the Canottieri Aniene in Rome (Rowing Club), I need to ask you if that is your favourite sport…
I'm a strong soccer supporter and I love all the disciplines, especially those that are considered "minor" ones, but are labelled as such, only as concerns popularity. And yes, I particularly love rowing, as well as rugby, for the value that is enclosed within these sports, their history, tradition and people who practice them.
What are your earliest memories in sports?
As a sports manager I recall the Olympic victory of Federica Pellegrini in Beijing – the 200 metres free style. Whereas as a child I recall when I won the first futsal soccer championship in the very same venue where the International Tennis Tournament took place and where the 1960's Summer Olympics were held: Foro Italico.
[The sports complex inspired by the Roman forums of the imperial age, whose design is lauded as a preeminent example of Italian Fascist architecture instituted by Mussolini.]
Do you think sports are one of the Italian talents that can be considered a hallmark of the country, au pair to fashion, design, and the arts?
There is a strong connection between all these fields. One must not forget that some venues of most of these disciplines are located in Rome's neighbourhood of Foro Italico, where – along with the stadium – there is also one of Rome's major universities, the Italian public broadcasting company RAI, and in proximity there is also the Palazzo della Farnesina, the Italian Ministry of Foreign Affairs. Therefore this attests how this unique scenery embraces the Italian qualities which make us known in the world, since many sports initiatives intertwine with artistic ones.