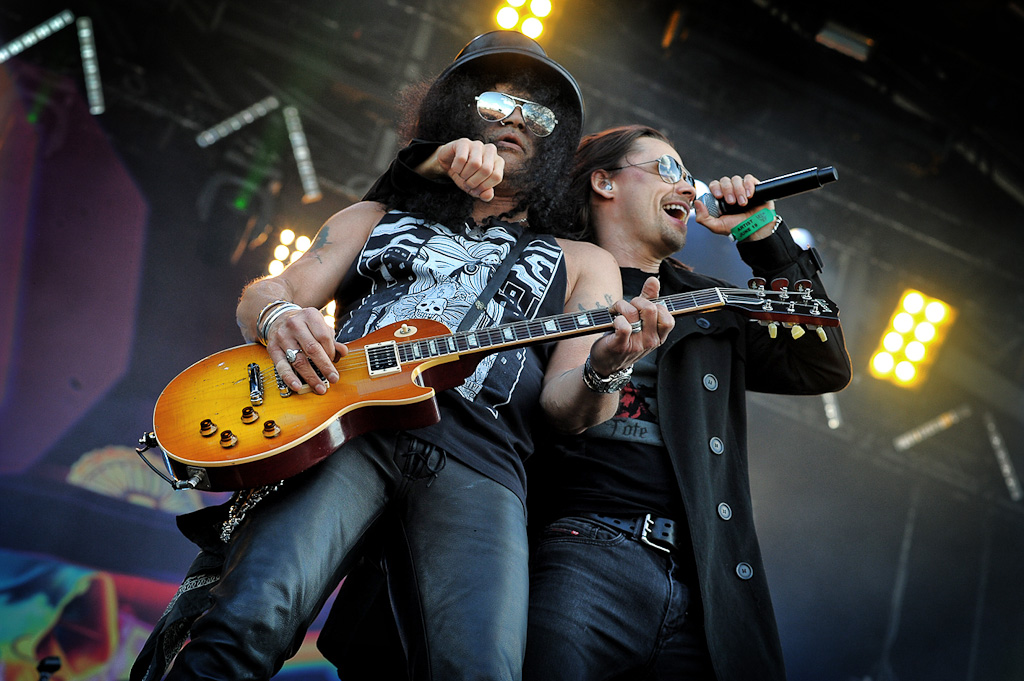 To support their new-third album "AB III", Myles Kennedy, Mark Tremonti, Brian Marshall and Scott Phillips, Alter Bridge, are performing in Europe in different cities, from Germany to Italy, till December.
In addition, each member of the band i salso involve in various music projects, from Brian, Scott and Mark, musical section of rock juggernauts, Creed, while Myles seems to be the favourite frontman and voice for Slash's today's and tomorrow projects.
Slash has reently confirmed that he had not tryed to recruit him to front Velvet Revolver, not to be responsible of a possible choice between the two bands of Kennedy, but Slash's next solo album will feature Alter Bridge's frontman handling all the vocals.
"Alter Bridge is a different style from what I do; it's more laid-back and my stuff is more aggressive. So he seems comfortable doing both".
Slash pays tribute to Kennedy, who was originally called in to guest on a couple of tracks on the guitarist's solo album, but stayed on to front the touring band – and will now perform all vocals on next year's release.
"I never plan ahead; I do everything in the moment", the guitarist says. "Myles came along at the tail-end of the record. I'd heard his name around, looked him up on YouTube and recognised he had an amazing voice. I gave him one of the pieces of music and he wrote this amazing song, Starlight. Around the time we were recording Back from Cali I asked him if he wanted to do a tour. When you do a throw-together band like that, you never know what you're going to get. But I put together the right guys and I've been having a blast"
by Ilaria Rebecchi
Related Images: