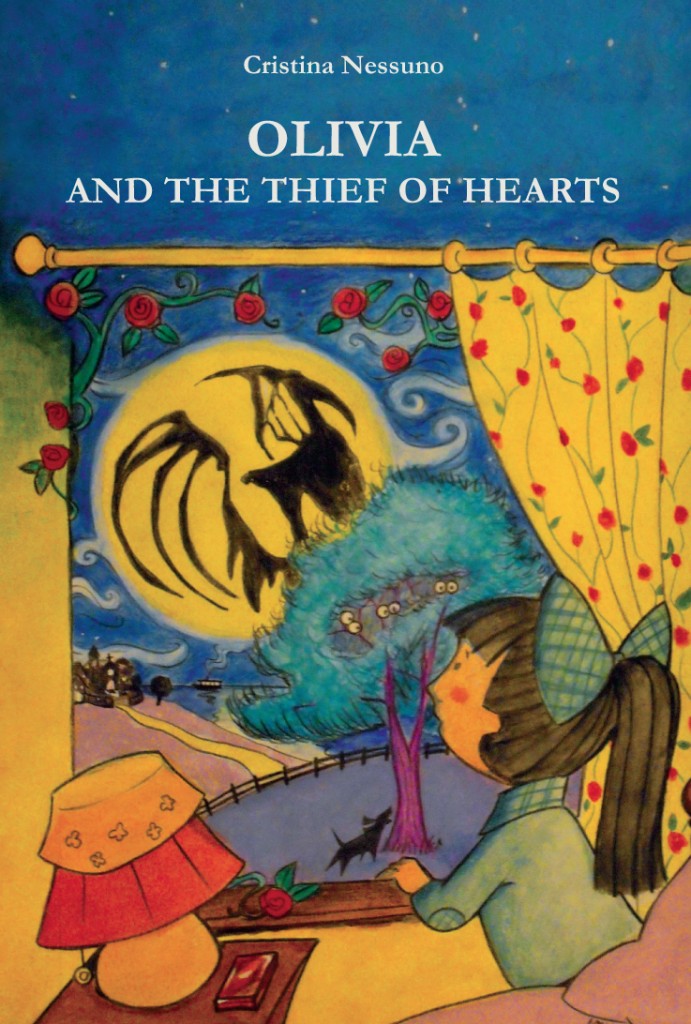 The noble Squickies will draw us in a compelling battle against the evil Arneos, who have as their mission to swallow the love of the human race. Olivia and Primo two ordinary children, with their frailties and fears but an indomitable courage, will fight side by side with the Squickies, in the name of Love.
This is the first children's novel of an elementary teacher who was forced at home for a month with a broken foot. The incredible adventure of Olivia and the thief of hearts was initially conceived as a Christmas present for her children, who have encouraged her to publish it as an e-book on Amazon: http://www.amazon.com/dp/B008PUV8US. The cover of the book, realised by the illustrator Andrea Marchetti, embellishes the literature of a world of wonders which will enrapture the readers in a a time and place that seems long forgotten by adults.
Mic, Mac, Merenda are tiny creatures called Squickies, born from human love; they come from rock…do you think that humans have to start re-bonding with nature?
Yes of course, even though the Earth goes on without human beings. Our history is a tiny piece in the outline of millions of years. In a billion years from today we might no longer be here, but rocks will. I strongly felt the urge to return an attribute of love to this element. It is common use to say someone has a heart of stone or is inanimate as a rock. But through love, in this story, rocks are brought to life and through the power of this sentiment mountains can be moved. In this book the outcome is objective and real, but in ordinary life for children it's subjective but just as real.
Is that what you recall of your childhood?
I was a child in the 60s, at the times it was very common to have just one doll. Hence it was a custom to play with pebbles in the countryside. These stones would take life, becoming FatherPebble, MotherPebble…and so on. It was fun to explore all the different details each single stone had and by playing projecting our imagination on these elements.
Perhaps it's up to children to newly awaken the sleeping hearts of adults?
Surely children have this ability of creating magic through their worlds of wonder they share with adults. Undoubtably Christmas has an incredibly powerful allure when lived in company of children. As grown-ups we lose certain imaginative beliefs and we develop others, and it's always so overwhelming to find those lands through the fresh eyes of a youngster.
The form of pure love you describe in the book is somehow connected to the ability of being surprised and managing to have a devoted disposition, have we lost these skills?
The most important trait that has been lost is love without possession. Nowadays what is loved, automatically has to be owned. Children buy what arouses their excitement, they seem to have been devoured, just as adults, in the consumeristic mechanism. The idea of preserving in your heart what you love but letting it free has been forgotten. There is a tendency to live less the moment, everyone is focused on collecting what can be a reminder of that instant, rather than enjoying it while it's taking place.
The villains puncture their victims' hearts with hooks, stealing innocence, compassion and love…does this match today's evilness?
I think our times are distinguished more by indifference rather than evilness. Which obviously is also a form of cruelty, especially when  someone ignores acts of injustice. There's the habit of being used to other people's distraught, until it hits you personally. For instance in my book the battle that occurs is triggered by the awakening of the rocks in the nearby lands; it somehow embodies the fear of losing power and the prevention measures that are thusly taken. But it is also important to see the reactions that can emerge through consciousness raising and the untrodden paths life leads to. Sometimes you hear such amazing stories that take place in the real world, as Yunus' Social Business Model. And it is so inspiring to hear these accounts at a time when the bid-offer spread has gone wild, along with the world economies. In my book the power of love awakens even stones, one must reflect on its incredible potential.
by Chiara Spagnoli
Related Images: