Thierry Dreyfus' light and video installation enhances the majestic beauty of the Borusan Contemporary Museum of Istanbul, located in the Perili Kösk, also known as the "haunted mansion." This building is one of the most exquisite architectural examples of the Turkish heritage, and has been chosen by the artist of lights for his latest creation, 'Our Dreams Remain Our Dreams,' settled for 13th Istanbul Biennial, that will be up until 2016.
The magic of light is captured and morphed by Thierry, to create a dialog between the Bosphorus dreams and the Perili Kösk building: as soon as the sun sets, images will appear under the balconies, as if they were the building's memory that comes to life. Screening videos with different sensations and landscape views will be projected: sky, clouds, water, sun through trees or footprints on the sand. Hence the escape given by these visions evoke our dreams that wander off to far away lands, distant from the urban stress. These video screens, set under the balconies of the buildings, act as oniric portals that transport viewers to a place where dreams can have a new beginning.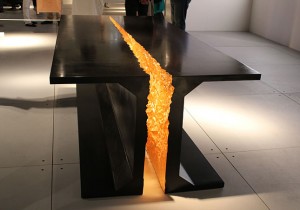 While other artists sculpt, paint or draw, Dreyfus uses the intangible ingredient of light to create installations on historical building and mould them into poetry, to make pedestrians rediscover the volumes and proportions of the constructions. Light has always been his medium, with which he enchanted audiences when in 2005 he magnified the Grand Palais in Paris for its reopening; for the Nuit Blanche of 2006 he installed an immense 'Jacob's ladder' below the Bibliothèque Nationale de France; for the 2011 Nuit Blanche he brought the choir of Notre Dame cathedral to life. Thierry is also very acclaimed in the fashion industry, since he worked with the greatest creative names such as  Dior Homme, Helmut Lang, Comme des Garçons, Yves Saint Laurent, Louis Vuitton, Raf Simons, Jil Sander, Calvin Klein, Atelier Versace, Cédric Charlier.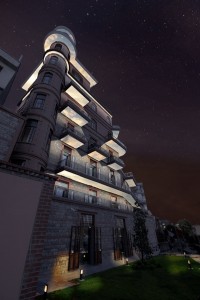 But it would be disorientating to list all of Thierry Dreyfus' works and it would take focus away from the purpose of his creations. Each of his installations is conceived to evoke a specific perception of the place and its environment, where light becomes a medium for dialogue between the architecture and the viewer. Thierry Dreyfus envisions fields of experience or visual landmarks as guides to drive and enlighten people's vision: this is what makes of Thierry Dreyfus an enlightened artist.
Related Images: