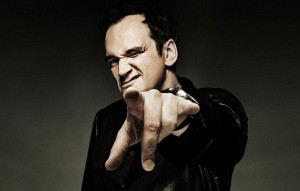 ROME FILM FESTIVAL
FESTIVAL INTERNAZIONALE DEL FILM DI ROMA

Friday January 4th
Lifetime Achievement Award to Quentin Tarantino and Django Unchained gala screening
The 7th Rome Film Festival (Festival Internazionale del Film di Roma) will confer its Lifetime Achievement Award to Quentin Tarantino. The American director, screenwriter, actor, and producer, winner of an Oscar® for Pulp Fiction, the author of extraordinary works such as Reservoir Dogs, Jackie Brown, Kill Bill:Vol.1, Kill Bill:Vol.2 and Inglourious Basterds, will receive the award on January 4th on the occasion of the gala screening of the new film he has written and directed, Django Unchained, starring Jamie Foxx, Leonardo Di Caprio, Christoph Waltz, Samuel L. Jackson, and Kerry Washington. The celebrated film-composer Ennio Morricone will be presenting the award to the director.
"Quentin Tarantino's vision has radically influenced our collective imagery over the past twenty years – explains Marco Müller, artistic director of the Rome Film Festival – Tarantino is a profoundly American yet very European filmmaker, because the relationship he has established with cinema and its history is as analytical as it is passionate. He has cultivated a coherent project of mise-en-scene, an authorial project that has grown richer thanks, to his experimentation with language and also to constant cinematic cross-references. As a result his films are both alive and vivacious to the extreme, they blast away the codes and conventions of film genres but each of them does express the spirit of his time".
In Quentin Tarantino's explosive new film, Django Unchained, Jamie Foxx stars as Django, a plantation slave who partners with Christoph Waltz's (Inglourious Basterds) bounty hunter to seek vengeance on his former owners and rescue his wife (Kerry Washington). One of the most eagerly anticipated releases of the season, the film also stars Leonardo DiCaprio as the villainous plantation owner, Calvin Candie, and Samuel L. Jackson as Candie's trusted house-servant, Stephen. Written and directed by Quentin Tarantino, Django Unchained is produced by Stacey Sher, Reginald Hudlin, and Pilar Savone. The executive producers are Harvey and Bob Weinstein, Michael Shamberg, Shannon McIntosh, and James Skotchdopole.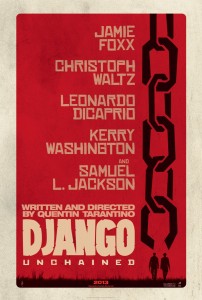 About The Weinstein Company and Dimension Films:
The Weinstein Company (TWC) is a multimedia production and distribution company launched in October 2005 by Bob and Harvey Weinstein, the brothers who founded Miramax Films in 1979. TWC also encompasses Dimension Films, the genre label founded in 1993 by Bob Weinstein, which has released such popular franchises as Scream, Spy Kids and Scary Movie. Together TWC and Dimension Films have released a broad range of mainstream, genre and specialty films that have been commercial and critical successes. TWC releases took home eight 2012 Academy Awards®, the most wins in the studio's history. The tally included Best Picture for Michel Hazanavicius's The Artist and Best Documentary Feature for TJ Martin and Dan Lindsay's Undefeated. The Artist brought TWC its second consecutive Best Picture statuette following the 2011 win for Tom Hooper's The King's Speech.
Since 2005, TWC and Dimension Films have released such films as Grindhouse; I'm Not There; The Great Debaters; Vicky Cristina Barcelona; The Reader; The Road; Halloween; The Pat Tillman Story; Piranha 3D; Inglourious Basterds; A Single Man; Blue Valentine; The Company Men; Miral; Scre4m; Submarine; Dirty Girl; Apollo 18; Our Idiot Brother; I Don't Know How She Does It; Sarah's Key; Spy Kids: All The Time In The World in 4D; My Week With Marilyn; The Iron Lady; W.E.; Coriolanus; Undefeated; The Artist; and Bully. Currently in release are Lawless, The Master, The Intouchables and This Must Be The Place. Upcoming releases include Quartet, Django Unchained and Escape From Planet Earth.
TWC is also active in television production, led by former Miramax Films President of Production and current President of Television Meryl Poster, with credits including the Emmy® nominated and Peabody Award winning reality series "Project Runway", spin-off series "Project Runway All Stars" and "Project Accessory", the VH1 reality series "Mob Wives", spin-off series "Big Ang" and "Mob Wives: Chicago", and the critically acclaimed HBO comedy/crime series "The No. 1 Ladies Detective Agency" which also received a Peabody Award. The company is currently in pre-production on the martial-arts epic Marco Polo for Starz. TWC additionally has 17 series in different stages of development, including The Nanny Diaries, being adapted for ABC by Amy Sherman Palladino (Gilmore Girls).
About Sony Pictures:
Sony Pictures Entertainment (SPE) is a subsidiary of Sony Corporation of America, a subsidiary of Tokyo-based Sony Corporation. SPE's global operations encompass motion picture production and distribution; television production and distribution; home entertainment acquisition and distribution; a global channel network; digital content creation and distribution; operation of studio facilities; development of new entertainment products, services and technologies; and distribution of entertainment in 159 countries. For additional information, go to http://www.sonypictures.com/
About Quentin Tarantino:
With his vibrant imagination and dedication to richly layered storytelling, Quentin Tarantino has established himself as one of the most celebrated filmmakers of his generation. Inglourious Basterds, Tarantino's World War II epic, assembled a renowned international cast and was a critical and box office sensation, garnering numerous awards, including six BAFTA nominations, ten Critics Choice nominations, four Golden Globe nominations and eight Academy Award® nominations, including Best Picture, Best Screenplay, and Best Achievement in Directing.
Prior to Inglourious Basterds, Tarantino thrilled audiences with acclaimed favorites Reservoir Dogs, Jackie Brown, Kill Bill Vol. 1 & Kill Bill Vol. 2, and Death Proof. Tarantino also co-wrote, directed and starred in Pulp Fiction, which won numerous critics' awards, a Golden Globe and Academy Award® for Best Screenplay, and the Palme D'Or at the 1994 Cannes Film Festival. Tarantino's next film is the highly anticipated Django Unchained, featuring an all-star cast that includes Jamie Fox, Leonardo DiCaprio, Christoph Waltz, Kerry Washington and Samuel L. Jackson, and opened to critical and box office success in the U.S. on Christmas Day. In addition, the film has received 5 Golden Globe nominations including Best Picture, Director and Screenplay.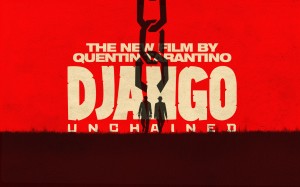 Related Images: