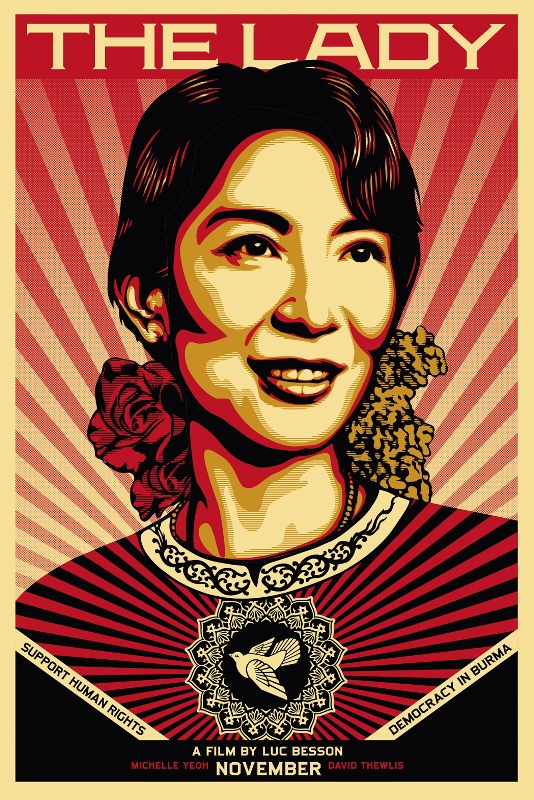 Synopsis
THE LADY is the extraordinary story of Aung San Suu Kyi and her husband, Michael Aris.
It is also the epic story of the peaceful quest of the woman who is at the core of Burma's democracy movement.
Despite distance, long separations, and a dangerously hostile regime, their love endures until the very end.
A story of devotion and human understanding set against a backdrop of political turmoil that continues today.
THE LADY was written over a period of three years by Rebecca Frayn.
Interviews with key figures in Aung San Suu Kyi's entourage enabled her to reconstruct for the first time the true story of Burma's national heroine.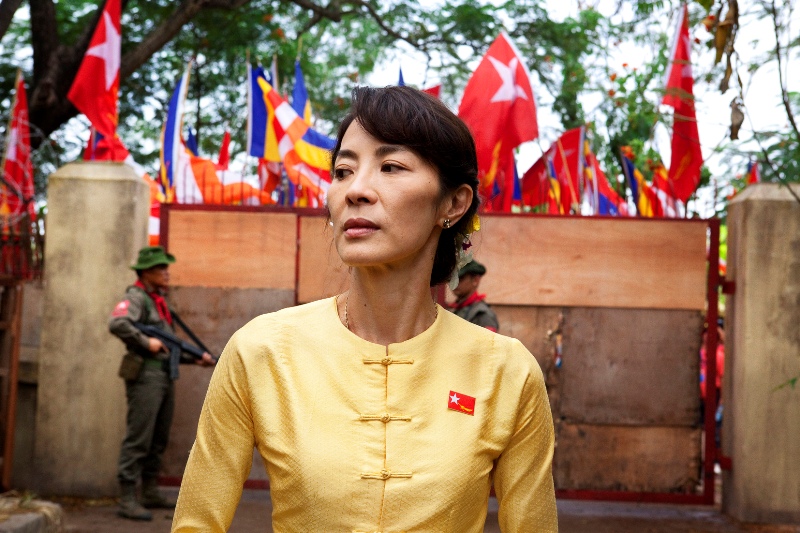 INTERVIEW WITH LUC BESSON
"Please, use your freedom to promote ours" (Aung San Suu Kyi)
How did you get involved on The Lady?
One day Michelle came to see me for help. She told me she had a compelling screenplay about Aung San Suu Kyi and was looking for a producer, and that it would be great if I were free to direct it. At first I told her I wasn't available. But then I read the script and I was blown away!
I was very moved by the story of this woman about whom I realized I knew almost nothing, except for the tip of the iceberg I'd read in the papers. I immediately got back to Michelle to say I wanted to support the project, and that if she hadn't found a director, I was a candidate. She was delighted.
Then Virginie read it and was really enthusiastic. Michelle introduced us to the UK producer Andy Harries who had developed the script with his company Left Bank Pictures and we were off on the adventure.
How did you make the screenplay your own?
The script was very well written, even if at times it veered too far toward documentary. We spent several months reworking it to give it a broader, more ―cinematographic‖ feel. I wanted to find the right balance between the portrayal of this woman's political struggle for democracy and the fiction and dream inherent to her trials. To make the story believable and even more enthralling, I needed ―bad guys‖. We therefore had to show the generals and the Burmese junta that have ruled the country with an iron fist for the past 60 years, as well as the relationship between Suu Kyi and the military.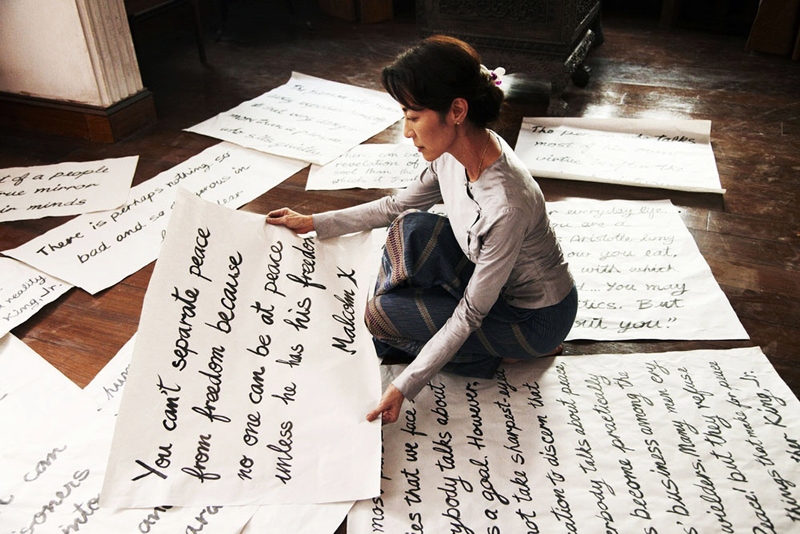 Since you weren't able to meet Aung San Suu Kyi in person, what liberties did you take with her character?
It's always frustrating to tell the story of a living figure when you can't meet him or her. There's a fear of betraying the truth or, on the contrary, leaning too heavily upon it. Especially when no one is able to guide you. We delved into three or four books about her which helpedus better grasp her incredible destiny. Aung San Suu Kyi's story and destiny can be traced back to her father, General Aung San. He was the great instigator of the Burmese revolution that liberated the country in the 1940s. But he and his ministers were assassinated when she was only three. When Suu Kyi took up the flame of the revolution some 30 years later, she immediately benefitted from her father's aura. Like the protagonist in Sophie's Choice, who had to choose between her two children during the war, Suu Kyi had to choose between her country and her family. Beyond the historical aspect, it was the people close to her who guided us as to what was plausible or not. And then there was also a lot of research and documentation to do about the people in her circle, like the writer U Win Tin, who spent 25 years in prison, or Zargana, Burma's only comedian who got 45 years for his irony about the military during his shows.
What about the generals?
That was even worse because we have almost no photos and no book has been written about them. We relied on Amnesty International's extremely well-documented reports about the hundreds of thousands of imprisoned Burmans by those who, liberated after a few years, were able to tell their story, their ordeal, and the way the military treated them. But I have to say the film is quite toned down with respect to the generals, because I think that some of the stories we learned of were so savage, that they would have lost all credibility.
Did you know from the get-go that Michelle Yeoh would embody Aung San Suu Kyi so powerfully?
Even before the shoot, when we saw just how absorbed Michelle was by the character, we knew she'd give an exceptional performance. She was possessed by the role. Aside from Mulan, there are not many other major roles outside Aung San Suu Kyi for an Asian actress. Not only is Michelle roughly the same age as Suu Kyi, she looks just like her! When she arrived on stage in the morning, silence fell as the two hundred Burmese around her wondered whether it was her or not. To get into the role, Michelle had about 200 hours of rushes on Suu Kyi at her disposition and that helped her acquire her model's body language and accent. When I met Suu Kyi six months later, I had the impression it was Michelle, only twenty years older.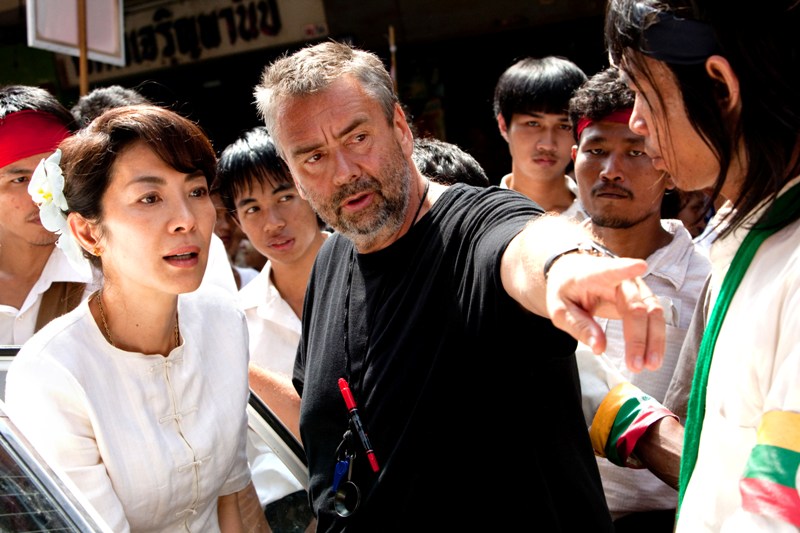 She had to learn Burmese for the film…
Burmese is surely the hardest language there is to learn. At first I thought the fact she already spoke several languages like Mandarin and Malay would help. But she explained it wasn't at all the case, and that the consonants were very different. She spent six months learning her texts in Burmese. In particular, she had the original Shwedagon speech, which enabled her to grasp Suu Kyi's intentions. She practised a lot and it's sometimes difficult to distinguish the actress from the veritable Suu Kyi. I really take my hat off to her for this scene with its particularly difficult speech. She demanded a lot of herself because she was set on speaking impeccable Burmese that would give the feeling it was her native language.
David Thewlis, in an amazing double role, is as believable as Michael Aris as he as Anthony.
He's one of that school of magnificent English actors with theatre training. He told me it had been a long time since he'd cried on reading a script like he did this one. From the moment he agreed to do the picture, he was a delight, all about good mood, friendship and generosity. Plus, he and Michelle got on very well.
What about the children?
In London I saw a lot of children. The top criterion was resemblance. Then came motivation, we chose actors that really wanted to do the film.
How did you recreate Suu Kyi's house?
Her house was a very important element. She spent 14 years there, cut off from the world, no access to the telephone, the press, or television. We researched a lot of photos of the house, especially for the interiors, and we even checked Google Earth to get the exact dimensions. We then rebuilt the house identically, down to the last detail. For example, the piano is the same brand as Suu Kyi's and the frames on the photos of her parents are the same. It was even troubling for some people who had had the opportunity to visit the house before and who had the impression they were entering the real one.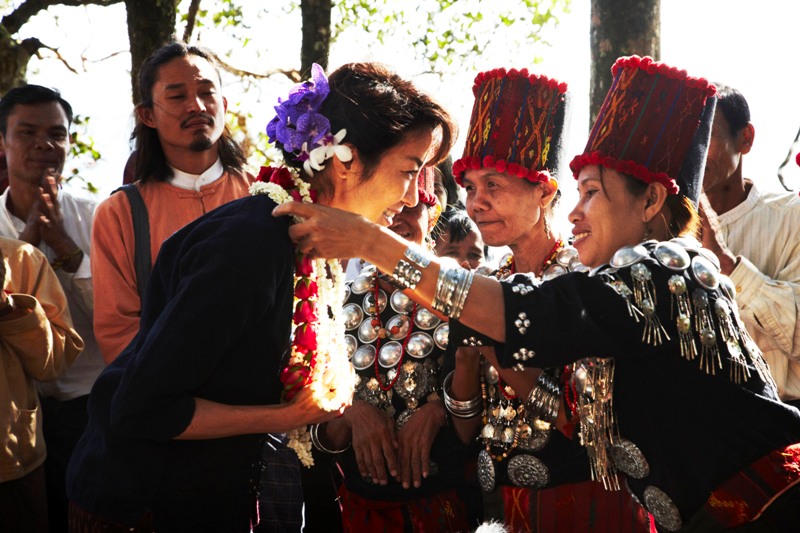 How complex was it to shoot the scene of the Nobel Peace Prize ceremony?
For this scene, no doubt one of the film's most powerful, we had access to real footage since the ceremony was shot by several cameras from around the world. It was really interesting for the actors, particularly David Thewlis and the children, because they were able to build on minute details that guided them. On the other hand, we didn't have any images at all of Suu Kyi listening to the ceremony on the radio, so it was the first time we'll see these two concomitant moments: the awarding of the Nobel Prize before a crowd of two thousand and this woman, alone, listening to her little radio.
Was the scene of the military barricade inspired entirely by reality?
This scene actually took place in Danubyu, a few hundred kilometres from Rangoon. Suu Kyi walked alone across the military barricade to go speak to the captain, telling her supporters to wait for her. The soldiers didn't dare shoot. But at the time of filming, she was still under house arrest, so we weren't able to ask her what happened. My main problem was not having
a photo of Danubyu. We have no idea what it looks like and I would have preferred to base our sets on the similar ones. I talked to Burmese who knew someone who had been there, but I didn't get any firsthand accounts of people that were in Danubyu at the time of the events—they are probably dead or in prison now. So this scene is fictional since I filmed it the way I think it rolled out. But I didn't invent it. Suu Kyi really did cross, alone, that wall of armed soldiers.
Aung San Suu Kyi's speech at Shwedagon is awe-inspiring.
Beside Michelle on the podium were 15 or so people from Suu Kyi's party, the NLD (National League for Democracy). One of the extras standing near her, aged about sixty, was among the crowd that gathered 20 years earlier in Rangoon to listen to the speech. He spent the day in tears, finding himself on the podium and reliving the scene that had had such a strong emotional impact on him. Another young, highly talented Burmese actress told me she was born the day of the speech. Her parents always teased her, saying that because of her they'd missed the speech!
Of course, it was unthinkable to shoot in Burma…
We knew we would never get authorisation to shoot given the nature of our topic—or any topic for that matter! We basically shot our 15 hours of footage in Thailand not far from the Burmese border in a landscape that really looked like Burma. We did however shoot the Shwedagon Pagoda—located smack in Rangoon—from every angle, and we shot actors against a green screen who we were able to overlay in front of the pagoda. We also filmed right in Rangoon (with a hidden camera) and it gives the feeling the film was shot entirely in Burma, even if in the final count, we only filmed thirty or so shots.
What was it like to shoot in Thailand?
Pure delight. Unlike what is currently thought in Europe, a lot of films are shot there every year. Film crews are professional, quick and friendly, and they do a remarkable job. The most complicated aspect—aside from the cloying heat and humidity—had to do with communication, since someone had to translate my requests into English, which was then translated into Thai, and then again for the Burmese actors. But the Thai casting director was great and I had a very good first assistant with an excellent sense of organization. I was therefore able to work at my own pace, with intense days and reduced breaks. I think the energy was good for the film and for the actors.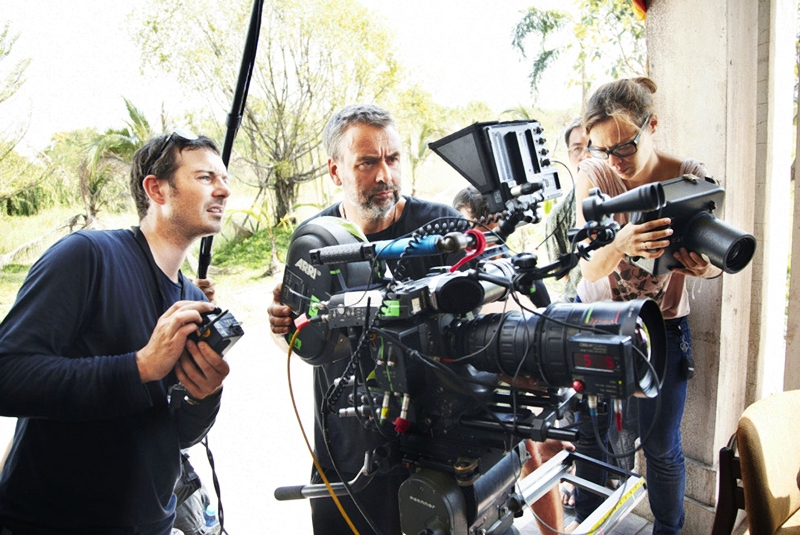 How did you work with the composer Eric Serra?
I met Eric when we were 17 years old, and he did the music for my first short film. We therefore have a very friendly and affectionate rapport, even if his rhythm of work is the opposite of mine. I like to plan everything and prepare it all ahead of time, while he prefers to think about it, observe, and take his time. Then, when there's only 11 weeks left to do the job—which is impossible!—he panics, he stops eating, he stops breathing, and he works. He can only create under extreme pressure. It's extremely painful for him. When he's finished, he sleeps 20 days straight. It's surely a part of his talent; he needs the pressure because he lives with his music.
Aung San Suu Kyi's liberation in Novembre 2010 must have come as a shock.
We never expected it to happen since she'd been held for over ten consecutive years. It was, in fact, one of the reasons for doing the film: we wanted to say we hadn't forgotten about this woman, or her fight. She was freed while we were in the middle of the shoot in Thailand, whereas her liberation should have come much earlier. We were thrilled at first, then we were thrown off balance. We were doing this film to help get her freed, and here we learn she was freed before the end of the shoot. That November morning in 2010, I had shot her first liberation in 1995: she walked out a wooden gate, then climbed stairs to wave at the crowd who was waiting for her. When we got back to the hotel that evening, we turned on the
television and saw the same gate, and Suu Kyi, dressed almost the same way, with the same flowers in her hair, going up the stairs with the same wave…
How did it make you feel?
If felt like somebody had stolen our morning's footage.
For a brief instant, I wondered what was happening and if it made sense to be doing the film. But we quickly learned of the restrictions surrounding Suu Kyi's liberation. She wasn't really any freer than she had been under house arrest. If she leaves her country, she can never return. Officially, her political party no longer exists. She cannot express herself, nor can she organize meetings. Her fundamental rights are scorned, even if she has been liberated. As a result, the film has retained all its meaning. Suu Kyi got this phrase out through the press, ―Use your liberty to promote ours‖. It's a call she made to all artists.
Do you think the film will help raise awareness?
Beyond Burma and this woman's personal trials, what interests me in this film is the echo it could have in all democratic countries. It should make us aware of the freedom we enjoy in France—where no one goes to jail for reading a newspaper—while at the same time demonstrating what a fragile thing democracy is. In Burma, most Parliament seats are reserved for the military: already that's not a democracy. Moreover, 95% of the 50% remaining are occupied by former military leaders. It's a farce, coming from a country that's trying to buy itself a democratic image in order to attract business and tourism. Twenty years ago, one strong vote was expressed. Suu Kyi's party, the NLD, won 392 seats. The military rulers won only seven. But the election results were never held to. It is our duty to watch our democracies closely and stay on the alert to with respect to freedom of speech, human rights and the constitution.
How did your meeting with Aung San Suu Kyi go?
First off, before I even met her, I wanted her to know about the project. After trying for three months, we managed to get a message to her. When I finally met her, I felt like I was standing before Gandhi. A person can't help but feel small and silly in the face of this woman who radiates extraordinary kindness, gentleness and simplicity. She fears nothing. For her, not even 60 years of prison would change a thing. What's important to her is that her people be free to share the riches of their country. She has no personal stake. It's a lesson in humility. Once you've met her you won't dare complain for five years to come! You want to know all about her and all she does is ask about you. She is curious, and hasn't even any interest in doing a book about her own life. She is an admirable person.
PRODUCTION NOTES
THE LADY: Genesis of an amazing story
Aung San Suu Kyi is one of the leading opponents to the military junta in power in Burma. Her whole life has been devoted to fighting for the advent of democracy in her country. After winning the 1990 general election and being awarded the Nobel Peace Prize the year after, she remained under house arrest for over fifteen years but never gave up fighting. In 1999 she was unwilling to go to England to see her husband, who was dying of cancer, for fear of being denied re-entry to Burma – she was never to see him again. And when Aung San Suu Kyi was eventually released from house arrest in November 2010, she had not seen her two children, Alex and Kim, for ten years.
It was the unfailing determination and extraordinary courage of this woman fighting alone a brutal, tyrannical regime that made Michelle Yeoh and Luc Besson want to make her extraordinary journey into a film. "When I received Rebecca Frayn's script in 2007, I thought that it was not only a deeply moving story of love and sacrifice but that it offered me a role which I couldn't turn down," Michelle Yeoh explains. "I have long believed that we lack powerful female characters in cinema." Producer Virginie Besson-Silla agrees, "It took me just one hour to read the script. I knew right away that EuropaCorp Company must produce it. If you're going to struggle for a couple of years and be totally involved in a project, you must be blown away at once. The fact that a woman could prove to be so heroic was all the more touching as it is usually men, who are portrayed as heroic characters. There was no doubt we had to make this film." She goes on enthusiastically, "what mattered was that Luc and I had the same vision of the film, which we wanted to show onscreen. Well, my priority was to focus on the purpose of the project, and deal with the financial aspect later. Andy Harries and Rebecca Frayn came to Paris to meet with us. We all saw the same film and understood its potential impact.‖ Producer Andy Harries agrees, ―After three years of working without financial support it was wonderful to join forces with Europacorp and have the opportunity to make this film with Luc Besson who is a director I have always hugely admired. Luc and Virginie were incredibly supportive from the first meeting and embraced this challenging project with us. It has been a brilliant experience".
However, it was not easy to come to terms with Aung San Suu Kyi's decision to sacrifice her private life for the sake of her ideals. "As I was reading the script, I couldn't help wondering how a mother could make such a choice," Virginie Besson-Silla goes on. "And it was so far from my own nature that I wanted to understand what had driven her to give up everything for her country. But after doing some research and meeting people who had known her and more than anything else, after meeting up with her just after her release, I understood that she had done it all out of love. She chose not to take into account her own feelings in order to help millions of people." Michelle Yeoh agrees, "while her husband was dying, Suu Kyi was busy giving a speech and performing her duties as an activist. You could, at first, think that she was cold and distant but, on second thought, you'd realise that she had a strong personality that you couldn't help admiring." Likewise, David Thewlis, who acts both as Michael Aris and his twin brother Anthony, had to force himself to come to terms with the idea of a person living a life of self denial.
"She and her husband would sometimes spend years without seeing each other or talking to each other, which is totally unthinkable to me," the actor notes. "He had no idea whether she was being tortured or beaten, or if she was in an isolated prison cell. He raised their two sons alone and didn't see her even when he was told he had cancer. As I have never been through anything like this, it was difficult for me to fully grasp this situation."

by Ilaria Rebecchi
Related Images: