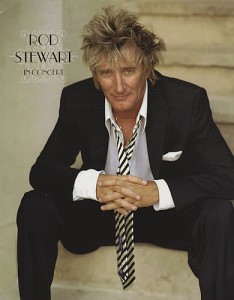 ROD STEWART
UNICA DATA ITALIANA
21 giugno ARENA DI VERONA
Dopo l'annuncio di un tour nel Regno Unito che partirà nel mese di maggio 2010, arriva anche la conferma di altre date nel resto d'Europa; una la tappa che vedrà Rod Stewart nel nostro paese: il 21 giugno nella magica cornice dell'Arena di Verona.
Il tour segue la pubblicazione del suo ultimo album, SOULBOOK, uscito lo scorso ottobre: una raccolta di 13 indimenticabili classici soul, i più amati degli anni sessanta e settanta, tutti reinterpretati  da una delle voci più personali ed espressive del panorama musicale.
L'album racchiude molte collaborazioni: due magnifici duetti, il primo con Mary J. Blige che si unisce a Rod reinterpretando il successo degli anni settanta degli Stylistics "You Make Me Feel Brand New", il secondo con Jennifer Hudson in "Let It Be Me", ispirato al duetto di Jerry Butler e Betty Everett. Presenti inoltre collaborazioni con le leggende della musica Smokey Robinson e Stevie Wonder, rispettivamente nei brani "Tracks of My Tears" e "My Cherie Amour".
I biglietti saranno in vendita da martedì 22 dicembre tramite il circuito TicketOne www.ticketone.it.
Costo dei biglietti:
PRIMA PLATEA                   90 euro + prevendita
SECONDA PLATEA                       65 euro + prevendita
TRIBUNA NUMERATA                   65 euro + prevendita
GRADINATA NON NUMERATA                42 euro + prevendita
Per informazioni LIVE NATION ITALIA
Tel.: 02 53006501 – info@livenation.it – www.livenation.it
Per informazioni EVENTIVERONA
Tel.: 045 8039156 – info@eventiverona.it – www.eventiverona.it