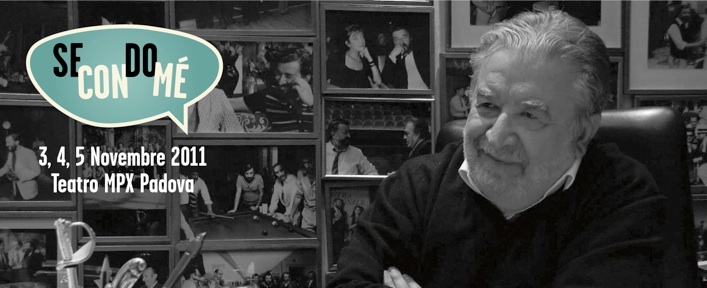 What's the world like according to Pupi Avati?
SecondoMéFest
In Padua
Movies, Books, Music, Tastings
and … Much More
SecondoMéFest
Thursday November 3 > Saturday November 5, 2011
Padua | multiple venues
Movies, books, music, tastings, symposiums and exhibitions: the first edition of SecondoMéFest, in Padua from November 3rd to November 5th, it's all this and much more.
Thus was born this original festival that will bring to Padua every year one internationally renowned artist willing to share personal likings and tastes, and everything that has inspired his or her creative process.
Movies and literature, music, wine and food.
A 360 degrees monograph that for three days will centre on one of the most important Italian film director: Pupi Avati.
Pupi Avati will come to town for the festival finale, accompanied by actor, Neri Marcoré.  The Director will interact with the audience, answering questions and explaining whys, and mingling with the spectators during screenings.
Therefore, the main appointment on the agenda will be a movie marathon: all the favorite movies of the guest of the Festival, the ones that moved him and those that inspired him, will be screened during the three-days event at the movie theatre MPX. Movies that have made the history of cinema, from Blasetti to Emmer, then Fellini, Dreyer, Siodmak, Risi, De Sica, all the way up to Curtiz, Mann and Monicelli. Because the big screen is not only made of premieres, because movies are not disposable, and because the movies that have inspired a great director will nurture a deeper understanding of his work.
During the whole event Pupi Avati will virtually be present explaining on video the reasons behind his artistic choices and unveiling his views on cinema. The festival will end with the screening of one of the most important movies of his career.
Movies will be the protagonist but an important role will also be played by books, readings, music, social issues, art and food.
There will be a Director's lectio magistralis for students of the University, and all participants will leave on a journey into his most beloved books and authors: roundtables with critics and jazz concerts with the favorite picks of this artist from Bologna, who also is, though not many knows, an excellent clarinet player. His favorite dishes will be included in the menus of selected restaurants around town, there will be lunch breaks and dinners with the artists involved in the project, exhibitions dedicated to Pupi Avati's work and a forum on a very delicate social issue will be held in collaboration with local schools: Saturday morning his recent movie 'Una sconfinata giovinezza', starring Francesca Neri and Fabrizio Bentivoglio, will be screened and a debate coordinated by Amap, People with Alzeihmer's Deasease Association in Padua, will follow.
An occasion to explore and dig into knowledge, a chance for dialogue and discovery, an opportunity for the city to get closer.
No entrance fee for meetings
3,50 euros ticket for selected screenings
And, for the early birds…
SecondoMéFest card (10 euros) -grants priority admission to all events of the festival
Info, Reservations and Calendar of the Events at
info@secondomefest.com