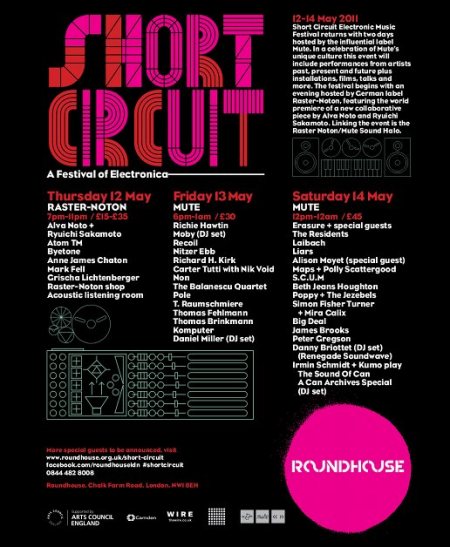 SHORT CIRCUIT presents MUTE
MORE ADDITIONS TO MUTE FESTIVAL LINE UP!
MARTIN L. GORE (DJ SET), RICHIE HAWTIN, 
MOBY (DJ SET), ANDY 'FLETCH' FLETCHER (DJ SET),
JOSH T. PEARSON PERFORMS MUTE SONGS
13 + 14 MAY 2011 AT LONDON'S HISTORICAL ROUNDHOUSE
JUST RELEASED – LIMITED NUMBER OF EXTRA WEEKEND TICKETS!
Fri 13 May – £30 (6pm-1am)
Sat 14 May – £45 (12pm-12am)
Fri & Sat – £65 – LIMITED TICKETS AVAILABLE
Limited Premium Ticket – SOLD OUT
Tickets are available from www.roundhouse.org.uk/short-circuit / 0844 482 8008.
All events are 14+, 16 and under should be accompanied by an adult
LINE UP SO FAR – RUNNING ORDER AND STAGE TIMES TO BE CONFIRMED
FRIDAY 13 MAY
RICHIE HAWTIN (MINUS, BERLIN) WITH VISUALS BY ALI DEMIREL
MOBY (DJ SET)
RECOIL
NITZER EBB
RICHARD H. KIRK
CARTER TUTTI with NIK VOID (COLLABORATION)
NON
THE BALANESCU QUARTET
POLE
T.RAUMSCHMIERE
THOMAS FEHLMANN
THOMAS BRINKMANN
KOMPUTER
DANIEL MILLER (DJ SET)
SATURDAY 14 MAY
ERASURE AND SPECIAL GUESTS
MARTIN L. GORE (DJ SET)
ANDY 'FLETCH' FLETCHER (DJ SET)
THE RESIDENTS
LAIBACH
LIARS
JOSH T. PEARSON PLAYS MUTE SONGS
ALISON MOYET (SPECIAL GUEST)
MAPS + POLLY SCATTERGOOD (COLLABORATION)
S.C.U.M
BIG DEAL
BETH JEANS HOUGHTON
POPPY & THE JEZEBELS
SIMON FISHER TURNER + MIRA CALIX (COLLABORATION)
JAMES BROOKS
PETER GREGSON
DANNY BRIOTTET (RENEGADE SOUNDWAVE) – DJ SET
IRMIN SCHMIDT AND KUMO play The Sound Of Can – CAN ARCHIVES SPECIAL (DJ SET)
WORKSHOP
DIRTY ELECTRONICS
FILMS
MARK STEWART 'ON/OFF' (2009)
AN EXCLUSIVE NICK CAVE & THE BAD SEEDS FILM BY IAIN FORSYTH AND JANE POLLARD WITH MORE TO BE ANNOUNCED
TALKS
GARETH JONES ON PRODUCING MUTE ARTISTS,
STEFAN BETKE (AKA POLE) 'AN INTRODUCTION INTO THE SCIENCE OF MASTERING'
PLUS MORE TO BE ANNOUNCED 
INSTALLATIONS – 13 + 14 MAY
SCHNEIDERS BEURO
FLIES, GUYS AND CHOIRS
FELIX'S MACHINES
Mute announce brand new additions to the line up for Short Circuit presents Mute festival – 13 + 14 May 2011 – at London's historic Roundhouse: Martin L. Gore (DJ set), Andy 'Fletch' Fletcher (DJ set) and Josh T. Pearson performing an exclusive set of covers of some of his favourite songs by Mute artists join recent additions to the 2 day festival: Richie Hawtin, Moby (DJ set), Maps and Polly Scattergood collaboration, Beth Jeans Houghton and a Dirty Electronics Workshop.
On Friday 13 May, Moby (DJ set) and Richie Hawtin (Minus, Berlin – with visuals by Ali Demirel) join a line up that features rare UK live performances from Recoil (Alan Wilder), Nitzer Ebb, Richard H. Kirk, CARTER TUTTI with Nik Void, NON (Boyd Rice), The Balanescu Quartet and Komputer plus live sets from key German electronic music figures Pole, T. Raumschmiere, Thomas Fehlmann and Thomas Brinkmann. Mute's founder, Daniel Miller will perform a DJ set.
On Saturday 14 May, Depeche Mode's Martin L. Gore and Andy 'Fletch' Fletcher have confirmed DJ sets, while Josh T. Pearson plays an exclusive set of his favourite songs by Mute artists. These announcements add to a bill that already boasts an exclusive performance by Erasure who will be joined on the night by very special guests.  Also performing live will be The Residents, Laibach, Liars plus recent Mute signings Big Deal, S.C.U.M Beth Jeans Houghton and Poppy & The Jezebels. Maps and Polly Scattergood will perform a unique collaboration interpreting each other's songs whilst Simon Fisher Turner will collaborate with Mira Calix. Also appearing are James Brooks and Peter Gregson plus a special guest performance from Alison Moyet. Other DJs on the night will be Danny Briottet (Renegade Soundwave) and Irmin Schmidt (Can) & Kumo (Jono Podmore) who will play The Sound Of Can – Can Archives Special.
Saturday 14 will also include a program of talks and films, alongside live performances throughout the afternoon. Talks confirmed so far include Stefan Betke (aka Pole) with 'An Introduction into the science of Mastering' and veteran producer and long time Mute collaborator Gareth Jones (Depeche Mode, Erasure and Liars) will talk about his work with the label. Films include the 2009 Mark Stewart documentary 'On/Off' and an exclusive Nick Cave & The Bad Seeds film by Iain Forsyth & Jane Pollard. More to be announced.
A series of installations will be running across the Short Circuit festival. Berlin based synth boutique Schneiders Buero will build a unique carousel where visitors can play with new modular and hardware synths. Flies, Guys and Choirs is an audio/visual installation by Irmin Schmidt & Kumo that will transform the sounds of people within the public space in to the bizarre and beautiful. Felix's Machines (Felix Thorn) will be exhibiting one of his music making sculptures.
In collaboration with Mute, Dirty Electronics Workshop will design a special analogue electronic instrument for the festival. Young members of the Roundhouse studios will take part in the workshop, each building the instrument then performing it at the Roundhouse. A limited edition of the instrument will be on sale during the Short Circuit festival. 
Short Circuit presents Mute is a 2 day incident which will feature performances and unique collaborations from Mute artists past, present and future alongside DJs, talks, workshops, screenings and installations. A celebration of Mute's unique and influential work as a label and publisher, the occasion will see all of the Roundhouse's public spaces open together for the first time.
The German electronic label Raster-Noton have confirmed a line up for the opening night of 2011's Short Circuit – Thursday 12 May – and a specially created sound piece will link the Raster-Noton and Mute events. The Raster-Noton / Mute Sound Halo will consist of sound loops created by artists from both labels and will play overnight from 12 May to link the two events.
The line up for Raster-Noton's event features the premiere of Alva Noto and Ryuichi Sakamoto's new piece, plus performances from Anne James Chaton, Grischa Lichtenberger, Atom TM, Byetone and Mark Fell. Tickets are onsale now.
For news and updates on follow Short Circuit presents Mute on Twitter at #mutesc
www.mute.com / www.facebook.com/muterecords / https://www.facebook.com/muteatshortcircuit
http://twitter.com/MuteUK / www.roundhouse.org.uk
NOTES:
Mute was founded by Daniel Miller in 1978, and since then has signed and developed some of the world's most influential recording artists – including Depeche Mode, Nick Cave & The Bad Seeds, Yazoo, Goldfrapp, Erasure, Moby and Richard Hawley – and become home to a crop of emerging talent and recent signings such as Josh T. Pearson and S.C.U.M.
Whilst maintaining a firmly eclectic roster, from the earliest days of The Normal, Fad Gadget and DAF through to the techno era with artists such as Plastikman / Richie Hawtin and Speedy J, and to the present day with hybrid electronic artists such as Yeasayer and S.C.U.M, the label has always been a champion of electronic music.
Mute also looks after a catalogue of seminal electronic artists such as Can and Cabaret Voltaire.
Short Circuit pays tribute to the key Pioneers of Electronic Music, recent festivals have hosted performances from artists such as the BBC Radiophonic Workshop, Holger Czukay, John Foxx, Jeff Mills and Gavin Bryars.
The Roundhouse is home to a bold and exciting programme of international contemporary performing arts and a creative centre exclusively for 11-25s. It gives young people a chance to realise their creativity and offers audiences of all ages new and extraordinary experiences in live music, theatre, circus, spoken word and new media. Since reopening in 2006, more than a million people have been through our doors and we help over 3,000 young people every year realise their creative potential.

by Ilaria Rebecchi
Related Images: