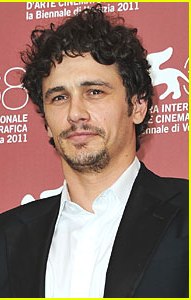 Exploding talent in the last years with success like "Howl", "Milk", "Pineapple Express" and the latest "Rise of the Planet of the Apes", 33 years old James Franco reveals the intimate need to disclose his ideas, disturbances and interests, through cinema and art.
At 360°.
According to this it can be easy to understand that he has already presented, at the Venice Film Festival 2011, "Sal", a biopic on Sal Mineo's last days of life in 1976, in a huge art-project involving "We Can't Go Home Again" (Nicholas Ray's last movie restores) and "Don't Expect Too Much" (Susan Ray's documentary on his beloved husband's movie), and the collective-artwork (Franco, Harmony Korine, Damon and Paul McCarthy, Ed Rusha and Aaron Young) "Rebel".
This collateral event of the 54th Venice Biennale (and of the Film Festival too) is located at the Isola of the Certosa, and consist of an interrogative ode to Nicholas Ray's masterpiece "Rebel Without a Cause" ('55), where the original movie becomes a prism, fracturing themes and events used within the original film reframing them in an unresolved conceptual amalgam: Hollywood iconography becoming a platform to explore masculine identity, angst, rebellion and self-destruction.
The whole project tends to celebrate Nicholas Ray's centennial birth.


In his "Sal", actor and director James Franco, who's recently presented the Academy Awards 2011 – also nominated for best male performance -, tells the story of Sal Mineo, who's acted with James Dean in Nick Ray's "Rebel Without a Cause", focusing on the last part of his life, when lonely and forgotten by star-system, media and friends, was not able to hide the mountain of his past success, till he was stabbed by a thug on February 12, 1976.
James in Venice, for the exclusive presentation of "Rebel", explains more about "Sal".
"First of all I want to say that's not precisely a classical biopic, but I prefer to define "Sal" as an emotional biopic. I've lots of experiences in roles in biopics, from Allen Ginsberg to James Dean, and I can say that there are lots of ways to make biographies in cinema. About me, as a Director, I am not interested in giving some kind of story-lesson about people from the past, I prefer to focus my attention on details, that means concentrating on a specific part of life for example. I wanted to make people know about Sal's one, especially at the end of his life, when, forgotten by the same star-system that years before driven put him to the stars and by friends too.
I wanted to capture Sal's soul, that's why I used the tipical '70s way of direction and shots, focusing on face and eyes, on his body, trying to extrapolate his feelings and loneliness, without too many dialogues.
It's an half experimental work: I used close shots because I'm really fascinated by them, and I'm inspired on Gus Van Sant's movies. I hope that, fixing for seconds on a face, the public would be able to recognize the story and the character, not by actions only.
I read a lot about Mineo, when I was young and when I've been James Dean in the film-tv.
He was such an interesting person: excellent actor, awarded and nominated, multi-talented, from acting to writing, and this is the typical character I love to understand more about.
Sal is the symbol of the tragedies that lots of creative minds front, not being able to express their art and talent. He's been one of the forgotten stars.
My movies are strange, and of course not too mainstream.
You know, I've been part of cinema-projects' with huge productions, like Sam Raimi's latest one: it is business, they are terrific works, where money is at the base, because without thinking of the box office effects you'd not be able to pay all the cast & crew.
But I have an intimate need to do also something else, in order not to become crazy, and to satisfy my curiosity and creativeness, that's why I make short and long films like "Sal", with low-budget, friends as actors, not too many technologies, but a deep consciousness about the past techniques of directing. I prefer making movies about themes and people that the media would have never spoken about.
That's the main reason on "Sal" and "Rebel" projects: art must not be considered only as pure entertainment.
It's a question of communication, creativeness and flow of ideas".
An ambitious polyhedral project for one of the most talented artists of contemporary cinema.
And more.
by Ilaria Rebecchi
Related Images: