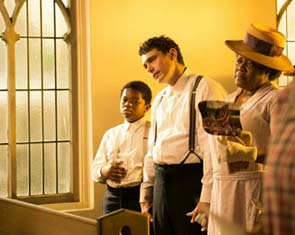 Synopsis
Set in Mississippi at the turn of the twentieth century, The Sound and the Fury portrays the decline and fall of the Compsons, a once proud, aristocratic Southern family. Translating William Faulkner's famously challenging experimental prose into the language of cinema, The Sound and the Fury reveals the secrets and betrayals that have tarnished the family name and continue to haunt the Compson children. Told in distinct chapters, the film juxtaposes the unique perspectives of the three Compson brothers: mute, manchild Benjy; sensitive, melancholic Quentin; and cold, calculating Jason. Meanwhile, the fate of the lone Compson sister, Caddy, gradually unfolds across all three narratives. The Sound and the Fury spans three decades in the lives of the Compsons and offers, through this single family's history, a meditation on the relationship between time, memory and history.
OUT OF COMPETITION The Sound and the Fury by James Franco – USA, 101′
language: English – s/t Italian
James Franco, Scott Haze, Tim Blake Nelson, Joey King, Ahna O'Reilly, Seth Rogen
Director's Statement
There is an old adage that says a good book will make a bad film and a not so great book can make a great film. I believe that this is true only because what we love about great books is often the prose style, the structure, and the way that the narrative works on the page, and because great, intricate writing is often difficult to adapt to the screen the style and structure of a book is often lost in translation from medium to medium. The Sound and the Fury is our second engagement with Faulkner, and one of many movies that we have adapted from great works of literature. When taking on this notoriously difficult piece of literature—where the different sections of the book are told through the first person perspective of characters who don't think linearly—we knew that adapting the story only would not be enough, it is simply a tale of a Southern American family's fall from grace, that we would need to capture the style and spirit of the book as well. This approach forced us to find filmic equivalents for the dense and difficult prose of the book, while seeking these solutions we found that we were pushed into new areas of filmmaking that we wouldn't have otherwise found. This is a movie that is seeking alternative forms of narrative structure.
Related Images: