AN ITALIAN ON BROADWAY: LORENZO THIONE'S MUSICAL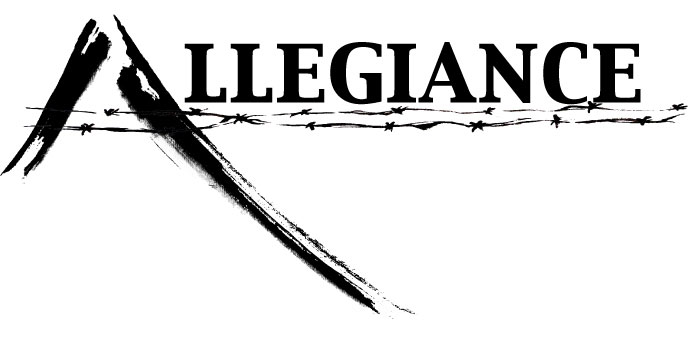 Lorenzo Thione, born in Mariano Comense (a small village near Lake Como), moved to the US through a scholarship he earned at Austin's Texas University. In the course of a few years he started Powerset, an IT company based in San Francisco that sold to Microsoft in the summer of 2008, for about 100 million dollars, a new search engine named Bing.
Lorenzo has now dedicated himself entirely to musical theatre, working on a completely new production. "Allegiance" is an epic story of love, war and heroism set during the Japanese American Internment of World War II. The Omura family in the weeks and years following Pearl Harbor, is relocated from its home in Salinas, California, to the Heart Mountain internment camp in the wastelands of Wyoming. This universal story sheds new light upon a dark, under-explored, and wrenching chapter of American history.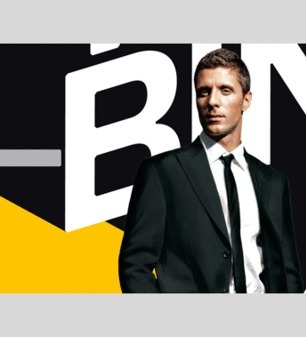 First of all how did Mr Bing become a Broadway producer?
When I think of what I do and when I think of myself in terms of a passion or a vocation there's no doubt I think of myself as an entrepreneur. When I started my first company which became part of the foundation for Bing I probably really discovered that about myself. I enjoy and love going through all the phases: going from an idea to creating the circumstances around it that allow for it to become a reality. It certainly happened with Powerset which became part of Bing. And in a very random serendipitous way I recognised the opportunity to apply that same strength and passion for a Broadway musical. It wasn't something I was actually planning to do.
Why did you choose to make a musical on the Japanese American Internment of World War II?
After the acquisition of my company I was taking a short break with a really close friend of mine, who happens to be an incredibly talented composer, who was working in New York City and was looking for inspiration, Jay Kuo. Through him I had come to learn and know about the Broadway industry and how incredibly entrepreneurial it is. One evening in a completely random way we met George Takei, who is famous for having portrayed the role of Sulu in Star Trek. We of course recognised him and struck up some conversation, it was just small talk. While the next evening we were in a different theatre seeing a different show we were sitting next to George again and it felt like one of those fateful circumstances of destiny. That evening we were watching a show called 'In The Heights' which has very personal close stories about a father and daughter and we noticed that George was really teary-eyed and moved by that story. We asked him why it had hit him so hard. He told us the story of when he was growing up as a child in an internment camp in the United States after Pearl Harbour, when he, his family and 120.000 others citizens and non-citizens of Japanese descent were imprisoned. Jay and I recognised this to be a very powerful and never really told story. A few weeks later we had a working title, a working draft of the treatment and a title song. I remember writing to George and practically telling him, that although he didn't know us we were inspired by what he had told us and we were working on creating this show and that we thought it would be absolutely perfect for him to be involved in. He surprised us by writing back and that he wanted to be part of it. The rest is history.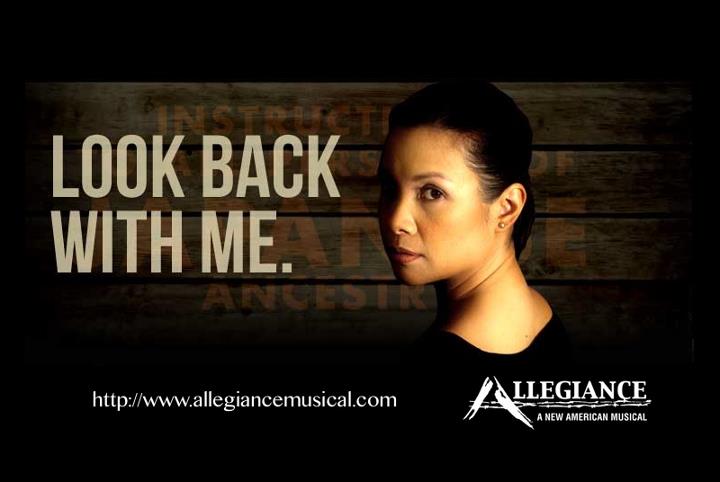 How did you assemble the creative team and cast together?
When people say that to build a Broadway musical it takes a village, they are absolutely correct, it takes a lot of people to create and put on stage a Broadway musical. After we met George, what was evident to us was that we needed a great Asian leading lady, Lea Salonga's name was the first one on the list. We had had the luck and fortune of having met at a social circumstance a few people that had worked with Lea in the past. She was part of the revival of 'Flower Drum Song' and we knew one of her co-stars in that show, Jose Llana. So he suggested Lea to read the story. We also sent it to her agent, as well as a casting agent who knew her. All we wanted to do at that time was just a short reading, we were willing to fly her out to Los Angeles from Manila. Two really lucky things happened: one is that Lea has family that lives in Los Angeles and the second thing is that she is a big Star Trek fan. The idea of working even just for a weekend with Mr Sulu was intriguing and fun. But while luck was great, fortunately she loved the project and stayed with it ever since and moved things around in order to be part of each follow up readings and workshop productions. With respect to everybody else it's less a story of circumstance and more of a plan. We always had very strict casting requirements, because of the Asian-American parts. For the early readings we reached out to our network, we held auditions for our workshop, in NY and L.A. trying to find the best talent we could. In respect to the creative team we contacted Stafford Arima, who is the director of the show and was also the director of 'Ragtime', and 'Altar Boyz' and Lynne Shankel  who is our music director and orchestrator. Jay and I had worked with them very briefly in the context of another show, which is a new rethought version of a musical called 'Bare'. Besides Stafford is Japanese-Canadian, and his dad was interned in the camps in Canada. So he was very intrigued by the project and read the first version of the script and started to get a sense of what it was like to collaborate with us. Once we had that core team together, we then selected all the other designers and went along with their experience and the people they had worked with. You really want a combination of people who have worked together in the past and others that haven't, to mixture the two. If you get people that have worked a lot together  in the past you don't get fresh ideas in, but at the same time you don't want to be completely unfamiliar with everybody else, because then you get no team dynamic. I think we have a really good set-up from that point of view.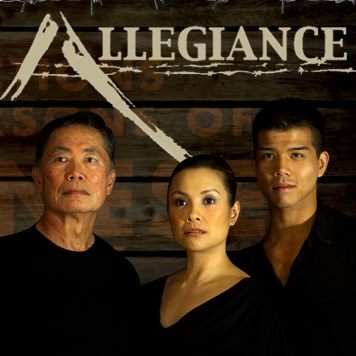 How did you get to design the logo?
Drew Kataoka is a good friend, whom I've known from my days in Silicon Valley, she's a Japanese-American artist and she is also a master in sumi-e Japanese drawing, brush-stroke painted. I remember talking about the show and she was very intrigued about what we were doing. The show is set in one of the camps that existed called Heart Mountain, which is a beautiful suggestive name. We always knew that the mountain was going to have a very symbolic role in the show and in the story. So we asked Drew to draw something that would be reminiscent of the mountain that we could use as the A of Allegiance. She painted a first version of this, which we still have and you can see on the website. What you always do then is you adapt it and morph it to fit whatever requirements you have and that's at the very core of the 'A'.
Why did you choose the title and topic 'Allegiance'?
First of all choosing a title is always part branding and you have to think about it in terms of marketing. We wanted a one word title. A powerful word, something that would be intriguing, evocative and of course that would theme well with the rest of the show. We knew we wanted to tell an epic story about America in a very difficult time, but we wanted to tell a family story. Allegiance is such a multi-faceted word: allegiance to one's country, to one's family, to one's tradition and past, to one's self. How many wars have started because of one's own allegiance to one's own beliefs without being open to another view?And how many families and how many relationships have broken down because of those same obstinate behaviours of not seeing another side? We suspected there was more than one side to the story of the internments of Japanese Americans. As we started to do some research on this aspect, the story was so much more nuanced and it really started playing off all of those aspects of choosing one's own allegiance.
You are an Italian now based in the US…how does allegiance work for you?
I remember having this conversation with some of the people that we were working with at the very beginning. They looked at my co-author and co-producer on the show who is Jay Kuo, who is Chinese-American. He was born and raised in the United States but he's of Chinese descent, so the Asian heritage in some way legitimised, in the eyes of the people we were working with, his need to tell this story. But they often asked me, why it mattered so much to me to tell this story. What really resonated with me was the experience of the people that were at the centre of the story not just as Asian-Americans but as immigrants. The duality of their situation, the fact they had to constantly deal with their own past. The perceptions and expectations of the rest of the country that saw them because of their immigrant nature, as lesser, as inferior, as different, as potentially hostile. The precariousness of their lives even though they found themselves building lives as productive and valuable as any other member of the American society of that time. I recognise that – in a much different and less intense and tragic environment – through my own immigrant situation: in my college years and the first years working in the United States, you go through Visa, after Visa, after Visa. There is this sense of instability that comes from not being fully recognised and accepted as a solid stable part of society. Each year that went by I eagerly felt to be more and more part of the American society. The way your professional development in your life evolves in terms of relationships, friends and affections, around where you live and the notion that someone could swoop it off from under your feet for something that you have no control over is always very scary. It's a very modern current story, the entire dynamic of what happened to Japanese Americans could have easily happened again after 9/11.
How do you become an allegiance ambassador?
We're just about to launch this program, as the show gets to San Diego. We think it's going to be one of the break through projects. When we launch this in the next few weeks it will work a lot like a game so we encourage everyone to sign up as ambassadors on the website: www.allegiancemusical.com. You will be able to help the show in a number of different ways, like posting information on Facebook and Twitter and sharing content and reposting and watching videos. You will earn your way up by doing all of these things demonstrating your allegiance to the show. We will do really great things for the fans that prove their commitment to the show, that go from merchandising, all the way through meeting the cast and participating to events. We really want to make people feel like they're part of this family and get to interact with the show at a level that usually they don't get to.
Dates and Locations of the show?
The show is going to San Diego at the Old Globe Theatre at the opening of the seasons for the fall/winter 2012-2013. The show is scheduled to run until October 21st. The plans are to move the show on Broadway within the season. We think a spring opening in 2013 is possible. But the show has to be ready, there's always room for improvement and that is the way you learn the things you never had any idea of before.
Are you ready for your theatre debut?
I'm very excited of where the show has been and how it has grown over the course of the last three years. The support we've already received from the community is incredible: we have almost 120.000 followers on Facebook and several thousands ambassadors that signed up on our website already. There's an audience for the show out there.
by Chiara Spagnoli