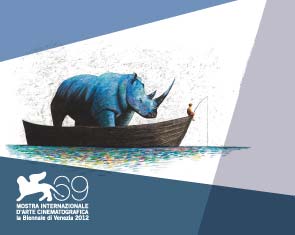 Venice Film Festival 2012
29th August > 8th September 2012
The 69th Venice International Film Festival, organized by La Biennale di Venezia, will run at Venice Lido August 29th through September 8th, 2012, directed by Alberto Barbera.
The aim of the Festival is to raise awareness and promote all the various aspects of international cinema in all its forms: as art, entertainment and as an industry, in a spirit of freedom and tolerance. The Festival includes retrospectives and homages to major figures as a contribution towards raising awareness of the history of cinema.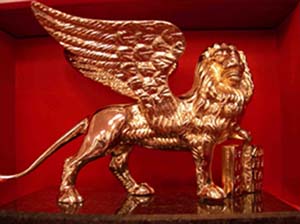 Here the list of the sections of the Festival
VENICE 69
Olivier Assayas – Apres Mai
Ramin Bahrani – At Any price
Marco Bellocchio – Bella Addormentata
Peter Brosens, Jessica Woodworth – Le Cinquieme Saison
Rama Burshtein – Lemale Et Ha'Chlal (Fill the Void)
Daniele Ciprì – E' stato il figlio
Francesca Comencini – Un giorno speciale
Brian de Palma – Passion
Xavier Giannoli – Superstar
Kim Ki-Duk – Pieta
Takeshi Kitano – Outrage Beyond
Harmony Korine – Spring Breakers
Terrence Malick – To the Wonder
Brillante Mendoza – Sinapupunan (Thy Womb)
Valeria Sarmiento – Linhas de Wellington
Ulrich Seidl – Paradies: Glaube (Paradise: Faith)
Kirill Serebrennikov – Izmena (Betrayal)
OUT OF COMPETITION
Jean-Pierre Ameris – L'homme qui rit
Susanne Bier – Den Skaldede Friser (Love is All You Need)
Pascal Bonitzer – Cherchez Hortense
Simon Brook – Sur un fil…
Jonathan Demme – Enzo Avitabile Music Life (doc)
Stephen Fung – Tai Chi 0
Amos Gitai – Lullaby to My Father
Kiyoshi Kurosawa – Shokuzai (Penance)
Spike Lee – Bad 25 (doc)
Mira Nair – The Reluctant Fundamentalist (film d'apertura)
Manoel De Oliveira – O Gebo e a Sombra
Robert Redford – The Company you Keep
Kimble Rendall – Shark (Bait 3D)
Henry-Alex Rubin – Disconnect
Ariel Vromen – The Iceman
&
Anton tut Ryadom – Lyubov Arkus
Ya Man Aach – Hinde Boujemaa
Clarisse – Liliana Cavani
Sfiorando il muro – Silvia Giralucci e Luca Ricciardi
Carmel – Amos Gitai
El impenetrable – Daniele Incalcaterra e Fausta Quattrini
Witness: Libya – Michael Mann
Medici con l'Africa – Carlo Mazzacurati
La nave dolce – Daniele Vicari
ORIZZONTI
Wadjda di Haifaa Al Mansour
Khaneh Pedari di Kianoosh Ayari
Ja Tozhe Hochu di Alexey Balabanov
Gli equilibristi di Ivano de Matteo
L'intervallo di Leonardo Di Costanzo
El Sheita Elli Fat di Ibrahim El Batout
Tango Libre di Frederic Fonteyne
Menatek Ha-Maim di Idan Hubel
Gaosu tamen, wo cheng baihe qu le di Li Ruijun
Kapringen di Tobias Lindholm
Leones di Jazmin Lopez
Bellas mariposas di Salvatore Mereu
Low Tide di Roberto Minervini
Boxing Day di Bernard Rose
Yema di Djamila Sahraoui
Araf di Yesim Ustaoglu
Sennen no Yuraku di Koji Wakamatsu
San Zi Mei di Wang Bing