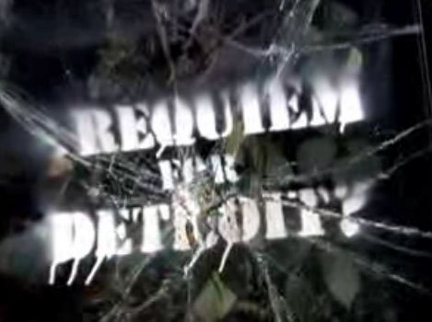 At the next Torino Film Festival, on 3rd of December 2010, Director Julien Temple will present his new "Requiem For Detroit", an amazing documentary about the decay and industrial collapse of the America's fourth largest city.
It is a vivid evocation o fan apocalyptic vision: a slow-motion Katrina that has had many more victims. Detroit, with its groundbreaking suburbs, freeways and shopping centres,  was the embodiment of the American Dream in the past, but its race riot brought the army into the city.
Police stations and post offices left with paper s on the desks, abandoned office blocks, houses ad collapsing car plants: this has been the scenary of Detroit in the last years, despite nowadays streets are returning to art, and farming coming back to the centre of it.
A rare pearl of art, cinema and America society, by one of the greatest directors of all times, Julien Temple, who, after the success of "Joe Strummer – The Future Is Unwritten", "Absolute Beginners" and "The Great Rock'n'Roll Swindle", won the 2009 edition of TFF for documentary, with "Oil City Confidential", about Dr Feelgood's story, from the small british pubs to the world fame in '70s music.
TRAILER: http://www.youtube.com/watch?v=yIgC5whSP8E
by Ilaria Rebecchi
Related Images: