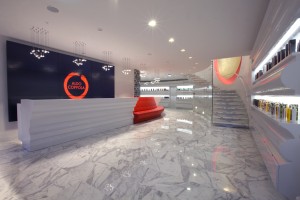 Federica Coppola was bequeathed with an important task from her grandfather Aldo Coppola along with her father Aldo Coppola Jr.: manage the worldwide established hair styling brand.
This charming young girl, besides having the looks, has the charisma not only to continue the family tradition but to expand it to contemporary new waves. Hence, after forging herself working for other labels, such as Australian brand Becca Cosmetics in the UK, Federica returned on board of Aldo Coppola's business, innovating it with a special attention to the world of beauty.
The utmost result can be seen when in 2013 Aldo Coppola opens a new salon called 'Kingdom of Beauty,' that embraces all areas of beauty with a very thorough attention to wellness and sustainability; as the Aldo Coppola motto attests it's "an exclusive place where you can pamper yourself."
In this Exclusive Interview Federica Coppola reveals how it all came about:
How was the Kingdom of Beauty conceived?
We opened the salon in Milan a year ago. It was December. The concept originates from Aldo Coppola Jr. way back in 2007, when we opened the London salon. The Russia franchise was opened in 1995 and others were opened through the years, which are more similar to Kingdom of Beauty, as opposed to the other salons in Milan that focus only on hair styling. Those in Russia concentrated both on hair and beauty. Since this format was successful we introduced it in London in 2008 as a franchise and a year later relaunched it as our own main salon and it's now going amazingly. It's on Sloane Street and it's 400 square meters on two levels, it was so successful it inspired us to do the same in Italy.
For the design of Milan's salon you called in an important architect…
Anton Kobrinetz has been working with us for a few years, whilst all the furniture is from Gamma & Bros., which is our new partner for the furniture design. This salon, located in Corso Europa 7, is 1000 square meters on three levels, two floors are dedicated to hair – our core business – and the lower ground is divided into make-up area, nail bar and spa area. This latter is divided into six suites in which there are several treatments and one of these has a private sauna.
One of your most innovative treatments is the cocooning…
Cocooning is the best expression to let the clients know we aren't concerned with the beauty of the hair alone, but also with the beauty of the body. We invented the cocooning bed that allows clients to lay down while the beauty therapist does the massage either on the body or on the face, whilst a hairdresser takes care of the hair treatment. The experience is amazing.
How has your experience in the UK, with Australian brand 'Becca Cosmetics,' forged you to take on your family business?
That was a great experience. It's a very good company, they are very horizontal and that gave me the chance to get an idea of how the entire business works. It's a very good make-up company that gave me the possibility to better understand the international perspective in this field. That helped me because thanks to this experience I started to think of expanding the Aldo Coppola brand more towards beauty, and eventually and I became the leader of this project. This also allowed me to choose the best partners we have today in our salons, such as By Terry, Oréal, Shu Uemura, Kérastase, Redken, Zoya and Essie for nails, Valmont and Shani, Kusmi Tea, Caviar Italian House, Gold Collagen, Centro Mességué Herbal Teas. This is part our our new concept: the Aldo Coppola Lifestyle, whose new logo is composed by four circles that represent hair, beauty, wellness and soul. We have energy consultants who work for the clients on their wellbeing.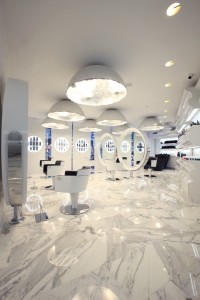 So the Aldo Coppola brand embraces sustainability both in design and products…
Kingdom of Beauty is definitely an eco-friendly salon, since the lights are sustainable and light designer, Enzo Catellani, has been working with us ever since 2008 when we opened our salon in Porto Cervo. As for the Aldo Coppola products they're completely eco-friendly both for the packaging and the ingredients of the products, they're parabens free and the containers are recyclable. Moreover the treatments we do inside the salons are focused on handling hair naturally and not using chemicals. That is why as a company we don't use tints inside the salons and we use henna to colour hair, which is the most natural way to treat them. Not many know that henna can embrace all shades not just red or black but also blonde and auburn. But besides colourings we have natural hair treatments too. Many companies use silicons to strengthen hair or fake amino acids that on the long run will ruin your hair. We use herbs and muds. We invented a hair therapy which focuses on your scalp, which you need to cure to have beautiful hair.
How do these innovative systems connect to your grandfather's techniques?
He was forward-looking: he always tried to be an innovator. He began with cuts and he was the first hairdresser to de-structure cuts completely, with the layered hair cut, which was the first cut done on dry hair. After that he abolished the use of free-standing hair dryers and started using the blow dryers. It was completely revolutionary for the 70s. He opened his first salon in 1973 in Via Manzoni, in Milan. After that he started looking on how to colour hair naturally, that is how henna was introduced, and that is how he evolved to shatush, a technique he invented to highlight hair without ruining it. Before foil was used, and it burnt hair, but with shatush you don't use foil, you use oxygen in the open air and the hair becomes blonde. He was a great innovator and this is what the Aldo Coppola brand keeps doing every year finding new technique for hair treatment.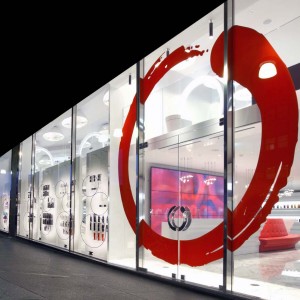 What are your memories with your grandfather…would you play with him using blow dryers and combs?
Not really. [Laughs] He used to leave work behind, when he got home. With his family he would share all his other passions, such as cooking, riding and the countryside. We used to go to the countryside near Pavia on the weekends, with my brother and sister, and I would go riding with him. So no hair. [Laughs].
How many Aldo Coppola salons are there in the world today?
We have 15 direct salons, 8 in Milan, the rest are in Florence, Rome, Forte dei Marmi, Porto Cervo, Montecarlo and London. Then we have 55 franchises in Italy and abroad spread through Russia, Ukraine, Kazakistan, Azerbaijan, Georgia and now we are almost opening in Dubai and another few countries including the USA.
In your experience working overseas, do you think it's still thought highly of Made in Italy?
Since we opened we doubled the requests worldwide of people who wanted us to open another salon abroad and wanted Italian employers working there. The media's feedback was completely unexpected. We opened this salon, in Italy, during an economic crisis because we wanted to send a message to tribute Made in Italy. Aldo Coppola died fifteen days before the opening, but somehow his legacy is ever present.