Lithian Ricci was born in Rome, where she took her degree in Architecture, she attended the Heatherley School of Fine Arts in London and eventually moved to Milan where she still lives and works.
Her trademark are fabulistic portraits, nevertheless her exquisite art envelops all fields of day to day life from clothes to cutlery: several recurring images chase each other from one platform to the other, saints, wolves, eyes jump off the canvases to explore clay, ceramic and fabrics. All elements are interconnected in Lithian Ricci's mesmerising power of storytelling through her brushstrokes.
How did you shift from architecture to visual art?
I always cultivated painting even though I studied architecture at university. I started drawing my dreams when I was very very young with Indian ink. I used to wake up during the night and write down all my dreams and then I transformed them into visual.
When did you understand that art was your path?
Since I was a child, I always knew this was my world. Once I moved to Milan I was torn between continuing to work as an architect or committing myself seriously to painting. So I started to do portraits to my friends, and at one point I went to Rome and met some people working in an art gallery. I told them I was looking for some people to portray on commission and when they saw my paintings they spurred me to expand and test myself beyond the simple portraits. It all happened by chance.
What painters in the history of art inspire you?
My roots are Italian, so I love to go back to the Renaissance, Botticelli for example, all the way to De Chirico and the Roman School. I also like very much the Pre-Raphaelites and all the paintings of the second half of the 1900s. I even fancy some more naive and strong painters like Frida Kahlo as well as Rousseau. I'm quite open and I like many informal painters, like Bacon, and many more.
What about the young contemporary artists?
Well there are several artists today who I don't really feel connected to, because I get the impression they lack sentiment. Often they try to do what's in fashion and shift genre according to the current trend. Change is important, we all evolve through our lives and it's important to do so in art too. But it must be a path to growth, not an erratic tackle to be in vogue. I think the most important trait of all artists is to be sincere and very determined. The creative aspect lasts an instant, then there is the technique and application. One has to be very devoted and disciplined in dedicating hours and hours to the piece of art that is being created. Also because art exposes the artist's being, that is why it's important to be honest with yourself and with the people to whom the artwork is address to. I think being sincere is what wins at the end of the day.
Which of your exhibitions gave you the feeling that you were an accomplished artist?
Well I never think of me as fully accomplished, nonetheless if I were to pick an important turning point in my work, it would be the exhibit I did in Rome at the Palazzo Vittoriano, a few years ago. It was a huge anthology and to see all my paintings, from the early ones up to the most recent, grouped in a big space, knowing that on the floor above there was Renoir, was really overwhelming! What I loved the most of that art show was the guest book on which all the visitors wrote their feedback. I've never been concerned with the critics' judgement but I've always had at heart ordinary people's opinion.
What arouses your interest when you portray people?
When I do my portraits, which go beyond mere physical representation, I try to understand who the person I'm representing actually is. There's a tight link between their physicality and their spirituality. To portray this there's a profound process of acquaintance, we talk a lot, and this eventually builds relationships that last for a lifetime. I was most surprised by the people I had never met before, some became good friends, children are trickier to connect with despite them being very cute and sweet. Men I find very interesting, since you always attribute to the female sex the desire to look good, but males too are really concerned about being represented at their best. It's always quite complex to make portraits of people, because everyone has a personal image of what they look like, which isn't necessarily beautiful or ugly but simply different from what is seen by others. This distortion obviously also occurs with photography. So it's always very fascinating to show a different vision of a person than the one they have in mind.
Besides the canvas what other techniques have you tested?
I've recently started sculpting in terracotta. I have an oven and use it to cook what I mould, I'm really enjoying it. I love this whole new approach to three dimension. But I've also tested a variety of things. Experimenting is very important, I'm not much into computer art, that isn't my thing, I like to mould with my hands or use my paintbrush. I've used oil paint on ceramics portraying some saints on plates. I've used a special sheen paint for some jugs. I made paper mache frames as an extension of the subject matter of some of my paintings. I also enjoy needle-point and made some shoes and carpets out of it. I've made quilts and used fabric paint on clothes. Even some of my furniture has received my brushstroke's touch. Any surface can be an apt stage to give life to imaginative fable storytelling.
by Chiara Spagnoli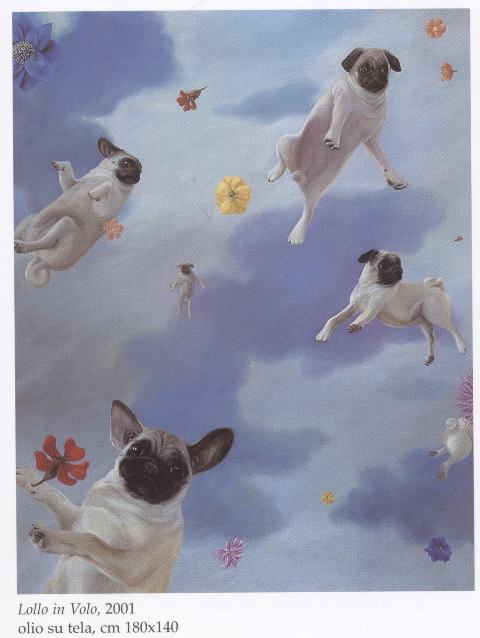 Related Images: