by Chiara Spagnoli Gabardi
Open16 is set in the alluring Venetian island of San Servolo and gathers sculptures and installations of artists from all over the world. This art show has opened on August 29th, running in parallel to the Venice Film Festival, taking place close to the dazzling Lido.
Paolo De Grandis conceived this art event and was supported by the curator Carlotta Scarpa, who, quoting former art historian G.C. Argan, has shaped this edition on "moving what is static and stationing what is moving."
The Open16 exhibit literally translates this motto into art with an exquisite variety of enthralling installations that allow the mind to float away, and at the same time ground us to the really important and basic matters in life. Bettina Werner's Love Egg for instance, created entirely with salt, reminds us of the importance of this element from the very origin of creation. But every artist has the power to lead us back to the simple bare necessities, through a dreamlike creation. Each featured artist has a story to unveil, from Bangladesh, to Taiwan, from Switzerland, to Belarus, to many more.
This year's Open Prize has been awarded to the artist Serena Nono, who is also presenting her first feature film at the 70th Venice Film Festival, 'Venezia salva,' whose cinematography shows a predilection for Caravaggio's use of light.
This is the full list of artists of Open16, that may be viewed on San Servolo until September 29th: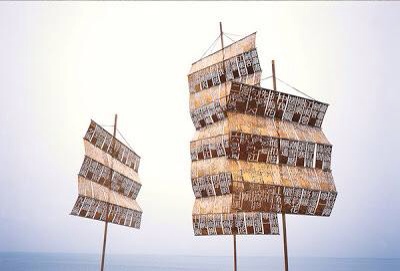 Australia / Italy – Virginia Ryan
Austria – Peter Nussbuam
Bangladesh – Ronni Ahmmed
Belarus – The Giant Movie Affiches TOP 30: Oleg Shobin, Andrei Belov e Irenkova, Bazinato e Anna Aparina
China – Yi Zhou
Korea / USA Nam June Paik
Japan – Kounosuke Kawakami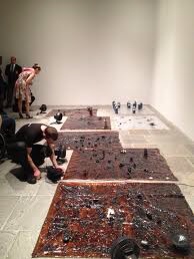 Italy – Luciano Angeleri, Alvise Bittente, Roberto Bricalli, Gaetano K. Bodanza, Casagrande & Recalcati, Maria Elisa D'Andrea, Claudia Danieli, Stefano Fioresi, Francesco Lussana, Marotta & Russo, Aldo Mondino, Puni, Consolata Radicati di Primeglio, Marco Nereo Rotelli, Luca Scacchetti, Federico Seppi, Barbara Taboni, Umberto Zampini
Peru – Ana Maria Reque
Spain – Raquel Monje
Switzerland – Tamara Bialecka, Franco Carloni
Taiwan R.O.C. – Chen Chung-Hao, Chou Yu-Cheng, Kao Tsan-Hsing, Mei Dean-E, Yao Jui-Chung USA – Will Kerr, Olga Lah, Bettina Werner
Related Images: