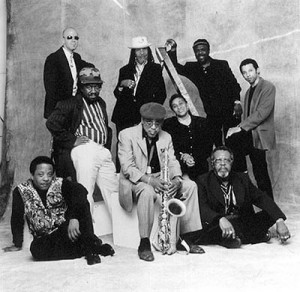 Mancano pochi giorni alle 5 date italiane dei padri del ritmo in levare per eccellenza: gli Skatalites. E' di poco fa la notizia che la band tornerà in Italia anche il 9 luglio – presente all'interno del Santallago Summer Splash – una 4 giorni di reggae/dancehall a Capannori, in provincia di Lucca. 45 anni di carriera musicale sembrano non intaccare minimamente l'energia e la passione di questo combo tutto jamaicano che ancora oggiAggiungi un appuntamento per oggi si appresta ad affrontare un tour europeo di oltre 20 date.
.
Attivi sin dal 1963 – quasi contemporanei ai Rolling Stones! – gli Skatalites sono una delle formazioni più longeve della storia musicale contemporanea, oltre che la band ska per eccellenza. Hanno all'attivo 22 dischi ufficiali e un numero sterminato di singoli, b-sides e raccolte. Della formazione originale sono rimasti tre elementi: Lloyd Knibb, Doreen Shaffer, Lester Sterling. Il loro brano più riconosciuto è la hit del 1965 Guns of Navarone. Gli Skatalites nacquero come l'unione fra i migliori musicisti di orchestra da ballo dell'epoca, fondendo insieme gli stili e i ritmi più in voga negli anni '50 (come il Boogie-Woogie Blues, R'n'B, Jazz, Mento, Calypso e i ritmi africani), per creare il primo vero sound Jamaicano: lo Ska.
.
SKATALITES: ecco le 5 date a maggio in Italia:
15-05-10 | Extramusic – Recanati (MC)
16-05-10 | Drugstore MusicHeart – Lignano Sabbiadoro (UD)
18-05-10 | Estragon – Bologna
19-05-10 | Bloom – Mezzago (MI)
20-05-10 | c.s. Brancaleone – Roma (One Love Hi Pawa night)
.
SKATALITES: date estive
09-07-10 | Santallago Summer Splash – Capannori (LU). (con Nina Zilli + Ebony Bones and more)
23-07-10 | Villa Serra Breakout – Genova (con The Wailers)
.