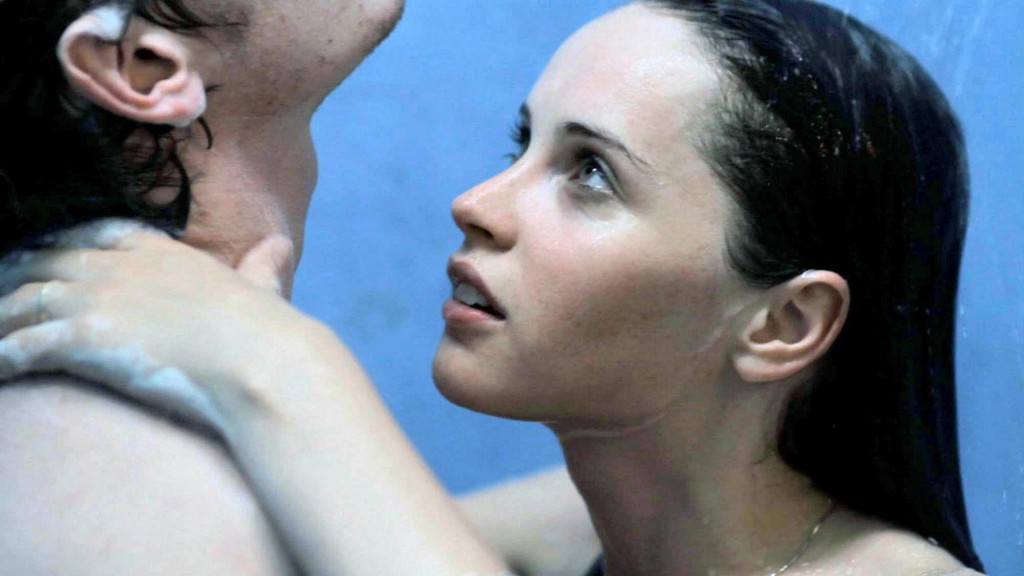 As "Like Crazy", love-story between an american student (Anton Yelchin) and an english girl (Felicity Jones), has already won the first price for Best Movie at the last Sundance Film Festival 2011, against "Another Earth", science-fiction movie about guilts of a woman falling in love with her husband's killer, rounded by a time-location where scientists discover another World where couplet clones live (Jury Special Price), the documentary "How To Die In Oregon", announced with discussions from public to critics, has won its cathegory price.
The movie tells about the assisted suicides in the first USA country that lagalized it, showing without complaints, in the cameras, death.
From foreign, "Happy Happy", sexy comedy and politically incorrect about the sex instinct of an married and bored woman.
Here you are the listo f the winners:
The Grand Jury Prize: How to Die in Oregon / Peter D. Richardson
The Grand Jury Prize – Dramatic: Like Crazy / Drake Doremus
The World Cinema Jury Prize – Documentary: Hell and Back Again / Danfung Dennis
The World Cinema Jury Prize – Dramatic: Happy, Happy / Anne Sewitsky
The Audience Award – Documentary: Buck /  Cindy Meehl
The Audience Award – Dramatic: Circumstance /  Maryam Keshavarz
The World Cinema Audience Award – Documentary: Senna /  Asif Kapadia
The World Cinema Audience Award – Dramatic: Kinyarwanda /  Alrick Brown
The Directing Award – Documentary: Resurrect Dead: The Mystery of the Toynbee Tiles / Jon Foy
The Directing Award – Dramatic: Martha Marcy May Marlene /  Sean Durkin
The World Cinema Directing Award – Documentary: Project Nim /  James Marsh
The World Cinema Directing Award – Dramatic: Tyrannosaur /  Paddy Considine
The Waldo Salt Screenwriting Award: Another Happy Day /  Sam Levinson
The World Cinema Screenwriting Award: Restoration / Yossi Madmony
The World Cinema Documentary Editing Award: The Black Power Mixtape 1967-1975 (Göran Hugo Olssonand Hanna Lejonqvist)
The Excellence in Cinematography Award – Documentary: The Redemption of General Butt Naked / Eric Strauss and Daniele Anastasion
The Excellence in Cinematography Award – Dramatic: Pariah /  Dee Rees
The World Cinema Cinematography Award – Documentary: Hell and Back Again /  Danfung Dennis
The World Cinema Cinematography Award – Dramatic: All Your Dead Ones / Carlos Moreno
Two World Cinema Special Jury Prizes – Dramatic for Breakout Performances: Olivia Colman and Peter Mullan in Tyrannosaur / Paddy Considine
A World Cinema Special Jury Prize – Documentary: Position Among the Stars / Leonard Retel Helmrich
A Special Jury Prize – Documentary: EING ELMO: A Puppeteer's Journey /  Constance Marks
A Special Jury Prize – Dramatic: Another Earth / Mike Cahill
A Special Jury Prize – Dramatic: Felicity Jones in Like Crazy /  Drake Doremus
The Jury Prize in Short Filmmaking: Brick Novax pt 1 and 2 / Matt Piedmont
The International Jury Prize in Short Filmmaking: Deeper Than Yesterday/Australia /  Ariel Kleiman
by Ilaria Rebecchi