by Chiara Spagnoli Gabardi

If you want to talent scout the New York music scene, be sure not to miss The Motor Tom, who just recently – December 9th – performed at Mercury Lounge, inflaming the audience. The band members are frontman, Nicky Schupak (voice), Andrew Harding (guitar), Anthony Formichella (bass), Luca Bertaglia (drums) and JJ Lindenthal (keyboard).
Nicky began in music when he was eighteen, managing bands and booking shows, way before he started making his own music. "I always liked performing," says Nick, "and after a while of working with bands I started writing some songs and with our mutual friend Jon Merkin of The Shake we played a gig." His friendship with Andrew goes back in time, when Nicky was managing the band Andrew was previously in, called The Walnuts.
The Face of The Motor Tom further explains how he found the other players of the band: "Anthony was in another band I managed called New Madrid, a latin alternative experimental group, whereas JJ came from the band Haakon's Fault."
Last but definitely not least, at the drums is the newest member from Italy, Luca Bertaglia. The Venetian drummer boy, a student at the Collective School, is enthralled by the what New York has to offer to musicians, "you may find all genres and you may perform in different venues very easily," he says.
The style of The Motor Tom is a witty rock that teases, what Andrew calls "dumb music for smart people." This transpires through their mocking lyrics, driven by uproarious rhythm and sound, not to mention the theatricality of the performance. Nicky is a virtuoso of the stage, as he switches pitches in his voice and interpretation; one minute he is Freddie Mercury, the next Mick Jagger, then David Bowie, and the transformation keeps going on and on. This is surely thanks to the chemistry with all the talented musicians of The Motor Tom, who pound out Rock 'n' Roll just like in the seventies.
Where can we see them next? Friday 12th December at CHIME II Crown Heights Independent Music Extravaganza (1332 Atlantic Avenue between Nostrand & New York Avenue). Keep tuned!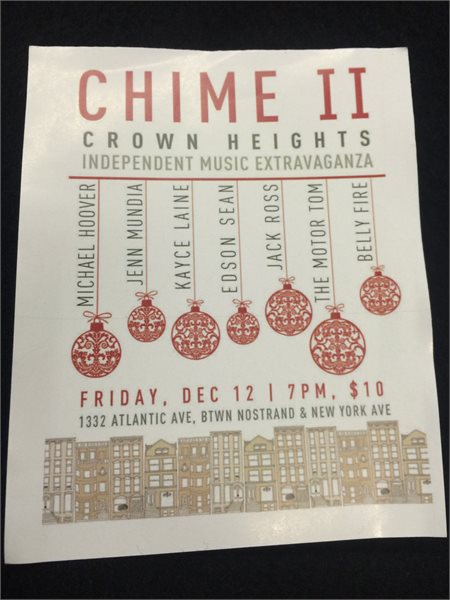 Related Images: