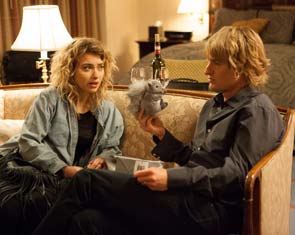 Out of Competition
Synopsis
Young Hollywood starlet Isabella Patterson recalls how the actions of a charming Broadway director, Arnold Albertson, changed her life forever. As told to a reporter in a not-so-reliable recollection of events, the Brooklyn-born former escort reminisces about how a rendezvous with the director turned into a larger-than-expected sum of money and an offer she couldn't refuse. Like a cockeyed fairy tale, a chain of events affecting the lives of everyone involved, including Arnold's wife Delta, leading man Seth Gilbert, playwright Joshua Fleet and even Isabella's therapist Jane ensues.

OUT OF COMPETITION She's Funny That Way by Peter Bogdanovich – USA, 93′
language: English – s/t Italian
Owen Wilson, Imogen Poots, Jennifer Aniston, Rhys Ifans, Kathryn Hahn
Director's Statement
Third time lucky. My previous two experiences at the Venice Film Festival were extremely important for me and for my pictures: Saint Jack in 1979 won the rarely-given Critics' Prize and completely altered European attitudes toward me—for the good. And opening the Festival in 1982 with my personal favorite among all my own pictures, They All Laughed, is one of the most stirring experiences in my life. It was Audrey Hepburn's last starring role, and with the great Ben Gazzara—dear Benny was brilliant in both pictures— precious John Ritter's own favorite movie performance, and Dorothy Stratten in her last, and single most personable and incandescent appearance. So it is a great joy to be back again 32 years later, especially with a new comedy, She's Funny That Way (remembering that the translation of this phrase is not "funny–ha-ha" but rather as "peculiar in certain ways"). It's a slightly odd romantic comedy with screwball overtones and the entire cast was a joy: the known ones, and a few surprises. Venice was my dear Viennese mother's favorite place on earth, and her son has come to the same conclusion.
Related Images: