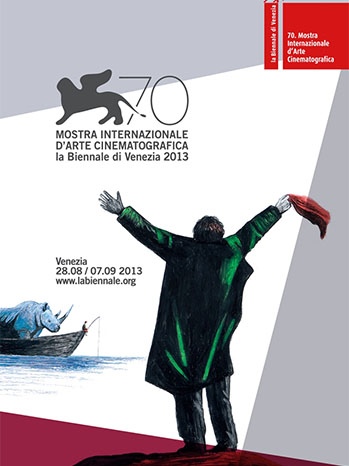 by Chiara Spagnoli Gabardi
The 70th edition of the Venice Film Festival is in step with the times. In a world of internet users, the most prestigious and old film festival in Italy looks into the future, giving the possibility to view some movies online, through the "Sala Web."
The Web Theatre of the Venice Film Festival will have a maximum "seating" capacity for each showing of 500 seats. There will be one screening only for each of the films to be shown and it will be located on a secure site managed by Festival Scope on behalf of the Venice Film Festival. Starting this year, Mymovies.it will also collaborate in the promotion.
The sale of digital tickets is already available via the Biennale website, www.labiennale.org. In order to view the film of choice, users must first register on the website, pay for the ticket (4 euro), after which they will receive a personal link that will be good for one viewing only. Each film (in the original version with English subtitles) will be available for viewing in streaming within 24 hours starting at 9:00 pm (Italian time) on the day of the film's official presentation on the Lido and it can be viewed around the world in streaming, concurrently with the official screenings of the Mostra d'arte cinematografica di Venezia (28th August – 7th September 2013). Only one viewing is allowed, though you may stop the screening at any time and continue it later from the point at which it was interrupted, within the space of 24 hours starting at 9:00 pm (Italian time) on the day of the film's presentation. Viewing is available in streaming only, and the films cannot be downloaded.
A high-speed Internet connection is required to view the movies in streaming, as well as a computer with a memory of at least 2GB of RAM or more and a 2 GHz or faster processor and Flash Player (updated to version 11.3). The compatible browsers are the updated versions of Chrome, Firefox, Safari or Explorer 9. Before purchasing a ticket for the Web Theatre, you may test your connection and computer at the following link: https://www.festivalscope.com/media/screening_test. Viewing is not compatible with mobile devices such as tablets or smartphones.
The lucky internet-movies are 12 features from Orizzonti and 3 features from Biennale College – Cinema. Here is the full list of the films at the Sala Web:
– Thursday 29 August
WOLFSKINDER (WOLFSCHILDREN) by Rick Ostermann (Germany, 91')
– Thursday 29 August
JIGOKU DE NAZE WARUI (WHY DON'T YOU PLAY IN HELL?) by Sono Sion (Japan, 126')
– Friday 30 August
ALGUNAS CHICAS by Santiago Palavecino (Argentina, 100')
– Friday 30 August
PICCOLA PATRIA by Alessandro Rossetto (Italy, 100')
– Sunday 1 September
JE M'APPELLE HMMM… by Agnès B. (France, 120')
– Monday 2 September
MEDEAS by Andrea Pallaoro (USA, Italy, 98')
– Tuesday 3 September
RUIN by Amiel Courtin-Wilson, Michael Cody (Australia, 90')
– Wednesday 4 September
LA VIDA DESPUÉS by David Pablos (Mexico, 90')
– Wednesday 4 September
EASTERN BOYS by Robin Campillo (France, 128')
– Thursday 5 September
BAUYR (LITTLE BROTHER) bySerik Aprymov (Kazakhstan, 95')
– Friday 6 September
LA PRIMA NEVE by Andrea Segre (Italy, 104')
– Saturday 7 September
MAHI VA GORBEH (FISH & CAT) by Shahram Mokri (Iran, 134')
Biennale College – Cinema
In partnership with Gucci
– Thursday 30 August
YURI ESPOSITO by Alessio Fava (director) and Max Chicco (producer) (Italy, 73')
– Saturday 31 August
MEMPHIS by Tim Sutton (director) and John Baker (producer) (USA, 84')
– Sunday 1 September
MARY IS HAPPY, MARY IS HAPPY by Nawapol Thamrongrattanarit (director) and Aditya Assarat (producer) (Thailand, 125')
Here is the direct link to the page with the technical instructions and the box office:
http://www.labiennale.org/en/cinema/news/14-08.html
Related Images: