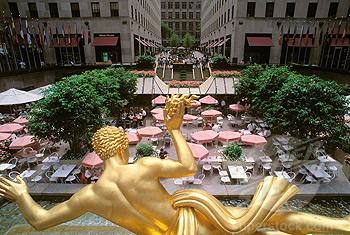 by Chiara Spagnoli Gabardi
If you happen to be in New York on June 12th – when the World Cup will kick off – you may enjoy 2014's FIFA at Rockefeller Center, in the gorgeous outdoor space, Summer Garden & Bar at Rock Center Café
This rare oasis in the centre of Midtown Manhattan will have the Red Bulls hometown stars, Eric Alexander and Luis Robles, attending the debut of the World Cup, starting at 3 p.m. This will be the perfect occasion to get their autographs, chat with them and sneak away from the office earlier than usual to enjoy the summery atmosphere in the heart of the Big Apple. Those early birds, who are amongst the first 250 guests, will receive a complimentary Red Bulls soccer scarf, so they can show their New York team spirit long after the World Cup is over.
The live action begins when the game kicks off at 4 p.m., broadcast on six outdoor large-screen televisions, stationed around the expansive bar. Football/Soccer fans not only will enjoy viewing the match on the big screen TVs, but they will also be spoilt by the delicious food by Italian chef, Antonio Prontelli, who came up with a special World Cup menu, featuring the cuisine of some of the top soccer-playing nations. Italy will be represented by savoury rice balls, Arancini Quattro Formaggi with mozzarella, fontina, parmigiano, and ricotta cheese. Sautéed Prawns with garlic and chili, Gambas al Ajillo, showcase Spain, while Argentinian Beef Skewers with a classic chimichurri sauce, Brochette de Carne, epitomise the South American country's passion for grilled meats. Whereas to toast for the best team to win, while Brazil and Croatia battle it out on the field, Summer Garden & Bar bartenders will be serving up a variety of caipirinhas, made with the Classic Caiprinha (cachaça, sugar, lime, and mint), the national drink of host country Brazil, which is available along with inventive versions made with freshly-muddled fruits, such as the strawberry Moranguinho, the Jardim do Éden with kiwi, and the cucumber Noite de Verão.
But the fun isn't over: there will be raffles for Red Bulls jerseys and game tickets, as well as Summer Garden gift certificates round out the pre-game entertainment. Don't miss this great summer-sport-leisure event in New York City!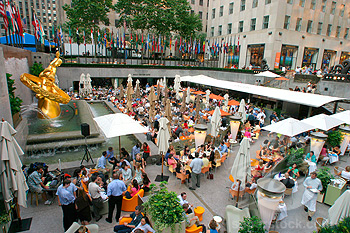 Related Images: